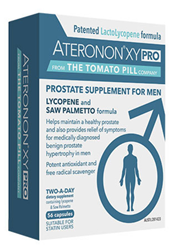 [Lycopene] can shrink down the prostate to some extent, and it can also help prevent prostate cancer if you get onto it early.
(PRWEB) October 11, 2017
Studies show that lycopene, a powerful antioxidant found in tomatoes and other red fruits and vegetables, may support prostate health and may even reduce the risk of prostate cancer.
Lycopene's antioxidant properties reduce damage caused by swelling of the prostate as a result of conditions like Benign Prostatic Hypertrophy (BPH). A 2008 study published in The Journal of Nutrition found that after six months, BPH patients who were administered lycopene experienced no progression of prostate enlargement, compared to a placebo group that did. According to Dr. Ross Water lycopene "can shrink down the prostate to some extent, and it can also help prevent prostate cancer if you get onto it early."
Problems involving the prostate are common. In America, 1 in 7 men will be diagnosed with prostate cancer during their lifetime. It is the most common cancer in American men, and is the third leading cause of cancer death in America.
BPH, while unrelated to prostate cancer, is another common condition, especially in older men. It occurs when the prostate grows so large that it squeezes the urethra, causing issues with urination.
Symptoms of BPH include:

Difficulty starting a urine stream.
Decreased strength of the urine stream.
Dribbling after urination.
Feeling that the bladder is not completely empty.
An urge to urinate again soon after urinating.
Pain during urination.
Waking at night to urinate.
Frequent urination.
A sudden, uncontrollable urge to urinate.
Fortunately, there are ways to take care of the prostate glands. Taking lycopene natural supplements is one simple way to keep prostates healthy. Ateronon XY PRO is a natural BPH supplement containing lycopene that has been shown to relieve the symptoms of BPH. It may also protect against the damaging effects of oxidative free radicals, which have been linked to cancer.
One Ateronon XY PRO capsule contains 3.5mg of lycopene. The natural supplement is absorbed easily by the body, allowing the body to receive the full benefits. This food supplement should be used by men who display symptoms of unhealthy prostates. If you are unsure about the health of your prostates, visit your local GP for a screening.
You can order Ateronon XY PRO at Nature Bee, an online store specializing in natural products such as natural bee pollen capsules. Delivery to the East and West coasts of America take 10-15 working days, and deliveries to mid-west states and Hawaii can take up to 15 working days.