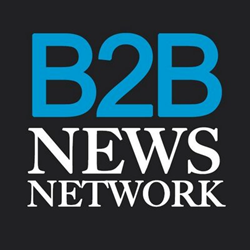 TORONTO and BOSTON (PRWEB) October 04, 2017
B2B News Network, which provides information, insight and marketing ops infrastructure to empower executive decision-makers in marketing and tech across sectors, has appointed its first editor in chief and CMO as it brings increased focus to its editorial and marketing functions.
Kris Schulze, formerly the Executive Editor of B2BNN, will take on the newly-created CMO role, overseeing customer marketing programs and a new offering to enable SMBs to outsource their marketing operations. Shane Schick, who has overseen multiple B2B publications including Marketing Magazine and IT World Canada, will formally join B2NN as Editor-in-Chief.
Founded by Jen Evans in 2014, B2BNN is the top-ranked site globally for B2B News. Under Schulze's leadership, the site has hit some landmark achievements, including:

Reaching 90,000 unique visitors on average per month over the past year
Expansion of B2B Comix (graphic novels for business) and B2B Audiences (tech and marketing focused research)
The launch of the highly successful DXAgents program with SAP, Deloitte, AWS, Intel, and others
Developing key relationships including launch partner SAP
"The year 2017 has been truly transformative so far for B2B News Network, and this new structure sets us up for an amazing 2018," said Schulze. "Working closely with Shane will allow us to generate even greater coverage and excellent results for our customers."
"There are a million B2B publications, but they all focus on a single industry sector -- except B2BNN, " Schick said. "This role is a unique opportunity to help tell the story of how CMOs, CIOs, sales leaders and other executives are working more strategically and collaboratively to build brands, sell and innovate."
"We've built a strong working relationship with B2B News Network to develop research, visibility, and generate conversions for both Terminus and #FlipMyFunnel," said Sangram Vajre, Co-founder, and CMO of Atlanta-based Terminus, one of the fastest growing companies in the US. "B2BNN has been a great partner and I look forward to doing more great work together!"
Schulze and Schick will assume their new roles immediately.
About B2B News Network
Founded in 2014, B2BNN covers the B2B space globally, specializing in IT, marketing and analytics, with a particular focus on North America and Europe. The company generates an average of 90,000 unique visitors a month and runs communities, content-based lead generation programs, research and outsourced marketing ops for companies. Visit us at b2bnn.com
Media contacts:
Jen Evans
jen(at)b2bnn.com 
416-346-3262 
Kris Schulze (in Boston)
kschulze(at)b2bnn.com