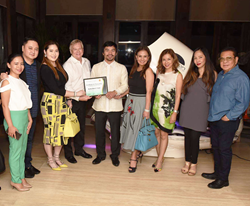 Pacquiao will be using the innovative Cocoon Wellness Pro POD for fitness, body and mind wellness.
Bloomington, Minnesota (PRWEB) October 05, 2017
Philippine dignitaries, including Philippine Governor Chavit Singson and members of the Rotary Club of Makati Ayala Triangle, gathered at the Manila home of world-champion boxer Manny Pacquiao to present him the prestigious 2017 "Philippine Man-of-the-Year" award and a Cocoon Wellness Pro POD™ wellness system. Steve Daffer, the USA inventor of the Cocoon IR Wellness Pro POD™, Ms. Prescy Yulo, founder of SkinRejuve Centers and JC Med, Inc., and Dr. Cristina Puyat, M.D., founder of Asian Stem Cell Institute, rejuvenation specialists, were on hand with Manny Pacquiao. According to Daffer, Pacquiao will be using the innovative Cocoon IR Wellness Pro POD for body and mind wellness, elite fitness, hyperthermic conditioning, enhanced reflexes and hand-speed.
About Manny Pacquiao – ESPN has ranked Pacquiao the world's #2 Best "Pound-for-Pound" boxer of the past 25 years. Pacquiao has won 11 major world titles, is the only 8-division world champion in the history of boxing, and is the first boxer to win 5 world championships in the weight classes of flyweight, featherweight, lightweight, and welterweight. Pacquiao was named the "Fighter of the Decade" by the Boxing Writers Association of America, the WBC, and WBO. He is also a three-time Ring magazine Fighter of the Year (2006, 2008, and 2009) and has generated greater than $1.3 billion usd in revenue from his 23 PPV bouts. According to Forbes magazine, he was the second highest paid athlete in the world as of 2015.
Beyond boxing, Pacquiao is an ordained minister and participates in politics. In May 2010, Pacquiao was elected as Philippine Congressman. In 2016, Pacquiao was elected to the Philippine Senate, serving until 2022. Many Filipinos hope Hon. Senator Pacquiao will become President someday.
About Cocoon Wellness Pro™ POD – is a new personal wellness POD providing comfortable whole-body heating for optimized body and mind wellness, fitness, toning, firming, energy-boost, mindfulness, relaxation, stress reduction and weight loss while the face and head remain cool outside the body chamber – manufactured in America by Wellness-USA.
The Cocoon Wellness Pro POD synchronizes 9-in-1 wellness technologies to help enhance, repair, restore, rejuvenate and peak wellness for every one of all fitness levels and ages - from elite professional athlete to optimizing enhanced recovery from poor wellness.
The Cocoon body chamber features a unique thermal-combination of dynamic dry heated air (ambient to 194F/90C) and radiant infrared heat for the body – plus an ergonomic cushioned bed, full-body massage vibration, colorful mood lights and a built-in fitness system with interactive guided imagery. The POD's fans circulate refreshing aromatherapy, pure Himalayan salt air and optional oxygen-enriched-humidified air.
The Cocoon POD™ is self-automated with 5 pre-set wellness programs for personal use by individuals, wellness-based fitness and wellness centers, personal trainers, spas, med-spas and specialty resorts.
Contact:
info(at)wellness-usa.com, or
Barbara Esanbock (besanbock(at)wellness-usa.com)
Wellness-USA, Inc. (http://www.wellness-usa.com)
9220 James Avenue South
Bloomington, MN 55431 USA
(800) 445-8418 or 1-952-888-8282