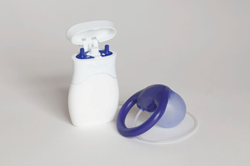 This analysis is important because there is a paucity of data regarding the FI subtypes on treatment outcomes even though subtypes may be associated with the underlying cause of incontinence.
Sunnyvale, CA (PRWEB) October 04, 2017
Pelvalon, manufacturer of the Eclipse™ System, announces the presentation of a new secondary clinical analysis of the LIFE study data at the Pelvic Floor Disorders (PFD) Week 2017, which is taking place October 3-7 at the Rhode Island Convention Center in Providence. The LIFE study, previously published in Obstetrics & Gynecology, was the pivotal trial of this first-of-its-kind treatment for women experiencing loss of bowel control that supported FDA clearance of the device.
PFD Week 2017 is the 38th Annual Scientific Meeting of the American Urogynecologic Society (AUGS), and highlights the importance of education on pelvic floor disorders, which impact one in three women. Loss of bowel control is a pelvic floor disorder, often called accidental bowel leakage (ABL) or fecal incontinence (FI). The condition can be caused by pregnancy, childbirth, nerve or muscle damage in the pelvic region, or other gastrointestinal conditions.
Dr. Isuzu Meyer, Assistant Professor of Obstetrics and Gynecology at the University of Alabama Birmingham, presents her results on Thursday, October 5th, at 8:37am in Ballroom C at PFD Week. The study compared treatment efficacy of the Eclipse System on patients with different subtypes of fecal incontinence.
"This analysis is important because there is a paucity of data regarding the FI subtypes on treatment outcomes even though subtypes may be associated with the underlying cause of incontinence" said Dr. Meyer. "Although there was a modest number of subjects involved, the Eclipse System improved symptoms in women with FI regardless of subtype, suggesting this low-risk, reversible device may provide a remarkably flexible therapeutic option for different causes of bowel leakage."
The analysis considered patients with different FI symptoms: passive-predominant, urge-predominant, or having both types. Treatment success, reduction in FI symptoms, symptom-specific quality of life measured by validated questionnaires, and patient impression of improvement in symptoms were similar all groups.
We are grateful to Dr. Isuzu Meyer for this unique analysis of the LIFE study results," said Miles Rosen, co-founder and CEO of Pelvalon. "We look forward to connecting with the scientific community at PFD Week in Providence this year."
As a follow up to the LIFE pivotal study, Pelvalon is currently running the LIBERATE study, designed to evaluate the 3- and 12-month durability of efficacy and safety outcomes of the Eclipse® System for female bowel control. Enrollment has closed on the LIBERATE study, and Pelvalon announced that all subjects have now completed the 3-month primary endpoint. Pelvalon expects that 3-month results will be presented in early 2018, with 12-month outcomes shared in the fall of 2018.
More information on the Eclipse System and its current clinical data will be available at the Pelvalon booth #708 at PFD Week.
About the Eclipse System
The Eclipse System is the first vaginal insert designed to provide immediate bowel control. Placed in the same location as a tampon or a diaphragm, the insert contains no hormones or drugs and can be removed at any time. In a clinical trial, among the women who were successfully fit and used the insert for one month, Eclipse was effective in 86% of those women. The most common adverse event was pelvic discomfort, most frequently associated with the fitting process and typically resolved by just removing the insert. At the end of the study, 96% of participants successfully fit with the insert found Eclipse to be comfortable, and 98% reported that they would recommend it to a friend.1
About Pelvalon
Headquartered in Sunnyvale, California, privately held Pelvalon aims to improve the lives of women who suffer from bowel control problems. Founded in 2010, Pelvalon's groundbreaking technology originated from Stanford University's Biodesign program, a collaboration between the schools of medicine and engineering. For more information, visit http://www.eclipsesystem.com.
# # #
For additional information, please contact:
Amy Cramer
650.391.3714
amy(at)healthandcommerce.com
1 Richter, HE, Matthews, CA, Muir T, et al. A Vaginal Bowel-Control System for the Treatment of Fecal Incontinence. Obstetrics & Gynecology. 2015; 125(3):540-547.