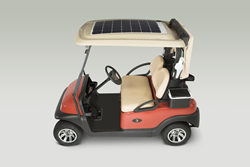 "Golf courses and players are in a unique position to make a positive impact when it comes to sustainability today," said Kenneth R. Kennerly, Executive Director of The Honda Classic
Palm Beach Gardens, FL (PRWEB) October 04, 2017
Ra Power Pro, the market leader in manufacturing and distributing solar panels for golf carts, utility, and low speed vehicles, is taking a leadership role in reducing carbon-footprint (carbon neutral in as little as one year), on golf courses and resorts across the country, and the Caribbean. In commercial applications, the use of solar power also increases profits by lowering electricity costs, maximizing vehicle readiness, increasing mileage, increasing battery life, and reducing maintenance costs.
"Golf courses and players are in a unique position to make a positive impact when it comes to sustainability today," said Kenneth R. Kennerly, Executive Director of The Honda Classic & President/CEO K2 Sports Ventures, LLC. "The golf industry is making strides toward environmental stewardship––and simple, eco-friendly solutions, like solar panels on golf carts, are taking a foothold and making a significant impact."
The solar adoption in the U.S. is growing every year. In an interview at the American Geophysical Union meeting, Elon Musk (Tesla) said, "If just the corner of Utah or Nevada was covered with panels, the entire US could be powered," according to Nature News' reporter Lauren Morello. It is predicted that solar will be the major source of power by 2031, which is only about 13-years away.
The sun is a free source of power that is readily available. The energy generated by our local star provides enough power in a just a single hour that humanity could be powered for an entire year––that is if solar energy was harnessed to its full potential.
In a typical setting, using one panel on one golf cart reduces about 200lbs. of carbon dioxide per year, which is equivalent to planting approximately ten trees. The average golf course has a fleet of 60 golf carts, and if solarized, that would be equivalent to planting a small forest each year (600 trees).
"We are in an exciting time and a unique position to be at the forefront of game-changing technology," said Geoff Haynes, President and partner at Ra Power Pro. "Unlike conventional PV solar panels (photovoltaic), Ra Power Pro's proprietary technology does not use tempered glass. Our panels are lightweight and slim (only 3 millimeters thick), as well as impact resistant. Our product leverages the latest technology available making our solar products highly efficient. They are also the most durable, so durable in fact, the US military uses the same technology."
The panels are easily installed on most golf carts and utility vehicles and have a 10-year life expectancy. The quality of the product has propelled Ra Power Pro to be the leading provider of solar panels for the resort and golf industry, with exclusive partnerships with Club Car Ingersoll Rand and Polaris Industries.
Ra Power Pro will be launching its direct to consumer ecommerce portal
at http://www.rapowerpro.com.
Geoff Haynes, President and Partner
After spending several successful years working in product development and brand building with companies that include BMW, QVC, Sears, Brookstone, Coca Cola, as well as working along A-listers Ray Romano, Samuel L. Jackson, Terry Hatcher and other notables, Geoff Haynes partnered with Ra Power Pro, to lead the charge of sustainable change in the golf and resort industry.
Haynes, a serial entrepreneur and passionate disrupter, decided to take the reins of SolarDrive Mobile Charging Systems (a European company).
"After several years working on developing solar solutions for companies like Nike, Thermo King, and smaller companies looking to utilize solar in unique applications, I recognized it was time to capitalize on the emerging opportunities that could be developed with our technology. It's been an interesting trip to this point but every year we see more and more solar adoption, and more reasons to be excited about the work we're doing."
About Ra Power Pro
Ra Power Pro is headquartered in Palm Beach Gardens, Florida with distributors and company offices across the US and the Caribbean.  RA Power Pro is a proud supplier to Polaris Industries GEM Vehicles and Club Car Ingersoll Rand. Solar Charging Systems are installed from the South Pacific to the Caribbean at some of the most prestigious facilities in the world. http://www.rapowerpro.com
Media Inquiries
For more information please contact Cindy Metzler, Omm Media at 561-271-1389 or cindy(at)cindymetzler(dot)com