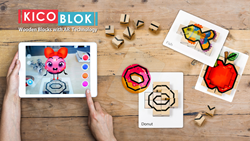 Kico Blok redefines traditional puzzle
Irvine, California (PRWEB) October 05, 2017
Pinoli Entertainment Inc., a California based company focused on developing constructive and innovative toys, announces the kickstarter launch of Kico Blok, a puzzle combined with an AR application in an innovative and unique way. The Kico Blok puzzle has unique shapes on each side of its cubes. Kids utilize these shapes by combining the cubes to create 2D characters and objects. By doing so, kids will learn artistic skills by identifying key shapes that can be recognized as characters and objects. At the end, kids are rewarded by seeing their puzzle come to life in 3D using the color cards and Kico Blok App.
"Kico Blok redefines traditional puzzles. Your puzzles will literally come to life when paired with AR technology. Kids will enjoy playing with the tangible puzzles and will marvel at seeing their creation digitalize in front of their eyes. Gone are the days when kids had to choose between active playtime versus media time. Now, children will be able to use their minds to actively put together tangible pieces of a puzzle while learning important technology skills as well. The lines of the puzzle will not only remain as colorful images, but will become fully animated in front of their own eyes." - Sue Park, CEO
The Kickstarter campaign for Kico Blok begins today and will continue for 35 days with the goal of raising $5,000. Early Bird contributors of the campaign will receive a significant discount of up to 30% off the planned retail price on Kico Bloks, which will be received before the Holidays.
For more information on Kico Blok's Kickstarter click Here.
Kico Blok website: http://www.kicoblok.com