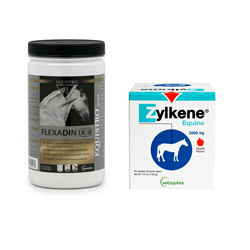 We're proud to be part of such an incredible event again this year. We will be at vendor booth 55 C.
FORT WORTH, TX (PRWEB) October 04, 2017
Vetoquinol USA, the veterinary pharmaceutical company dedicated to developing animal health products with veterinarian-approved formulas for the last 80 years, recently announced its sponsorship with the Retired Racehorse Project. (Vendor booth 55 C)
The Retired Racehorse Project is a nonprofit organization dedicated to increasing demand for thoroughbred horses off the track. The Thoroughbred Makeover and National Symposium will be taking place at Kentucky Horse Park in Davidsonville, Maryland on October 5 through 8.
"We're proud to be part of such an incredible event again this year," says Tabitha Cromer, marketing manager at Vetoquinol USA.
Zylkene Equine is an apple-flavored supplement that helps horses cope with difficult situations. Zylkene Equine's active ingredient, alpha-casozepine, helps horses cope the same way nature calms the nursing foal. Flexadin UC-II promotes cartilage development and joint health at the immunologic level. Flexadin UC-II is part of EQUISTRO, a trusted brand of equine products available throughout Europe for over 30 years.
For more information on these products and the event, please visit: http://www.retiredracehorseproject.org or http://www.barnchats.com.
About Vetoquinol USA:
Headquartered in Fort Worth, Texas, Vetoquinol USA is owned by Vetoquinol SA, an independent, family-owned French pharmaceutical company founded in 1933. Dedicated exclusively to animal health, Vetoquinol USA is focused on the development, production and marketing of FDA, EPA, NASC and AAFCO-regulated pharmaceutical, nutritional and dermatological products for small and large animals. Vetoquinol's livestock division offers products for horses and cattle to assist owners and veterinarians with joint health, pain management, immune support, behavior and general care. For more information, visit http://www.barnchats.com.