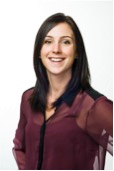 I'm excited to lead the Blockchain Users Group's mission to spread awareness of blockchain technology in Canada.
VANCOUVER, CANADA (PRWEB) October 05, 2017
The Blockchain Users Group (BUG), a consortium of individuals committed to spreading awareness about the benefits and uses of blockchain technology, recently appointed Melissa Quinn, Corporate Development Manager of RightMesh, to be the Director of the Canadian arm of the organization.
The mission of BUG is to educate the general public about blockchain technology and its applications while being a community for members to share knowledge and learn from one another. Quinn has been immersed in the blockchain space since early 2016 when RightMesh realized the benefits of integrating its mesh networking protocol with the Ethereum blockchain. Quinn's role at RightMesh involves seeking new partners, advisors, and community backers who are aligned with the project's vision to connect the next 1 billion people currently lacking Internet access with mesh networks. By integrating blockchain technology into the mesh platform, RightMesh is able to improve identification mechanisms on the mesh as well as tokenize mobile device resources, such as Internet, data, and storage. This tokenization enables RightMesh to incentivize users to share their mobile device resources with those who currently lack access, thereby furthering Right Mesh's mission to expand Internet connectivity across the globe.
"I'm excited to lead the Blockchain Users Group's mission to spread awareness of blockchain technology in Canada," said Quinn. "One of the most important functions of the consortium is to welcome more people into the blockchain community through education. As someone who comes from a non-technical background, I understand that delving into the crypto space can be intimidating. We need to make this technology accessible to everyone, regardless of profession or educational background, in order to increase adoption and support innovation."
BUG is hosting its first summit, The Business of Blockchain, on October 10th in Atlanta, GA. Some of the topics discussed will include Blockchain 101, an overview of the different types of blockchains, what blockchain means for business, and a discussion of what the future holds for this nascent technology.
For media inquiries, or to schedule an interview, please contact Nikki Brown at Melrose PR; nikki(at)melrosepr(dot)com or call (310) 260-7901.
About Blockchain Users Group
The Blockchain Users Group (BUG) provides a hub for users, practitioners, and developers to exchange knowledge on how to maximize blockchain technology to achieve business success. The BUG is dedicated to the delivery of member-driven education and networking to help the BUG community CONNECT, LEARN & GROW. The group's primary focus is on providing members real-life examples, educational information, and product demonstrations regarding Blockchain technology. The mission of the group is to continuously offer information which will directly benefit members in their everyday experience with Blockchain.
About RightMesh
RightMesh, incubated by parent company Left, is a distributed network and platform that incentivizes individuals to share excess Internet capacity and device resources to those who lack access, thereby increasing global connectivity and facilitating international communication and commerce. The RightMesh wireless network is self-forming, self-healing, and self-regulating, using various technologies in smart devices rather than relying on traditional infrastructure. RightMesh's networking technology is already used in a content-sharing and local messaging app called YO!, which has received over 1 million installs and is actively used in emerging markets. RightMesh aims to connect the next 1 billion people with the power of blockchain and mesh technology combined.