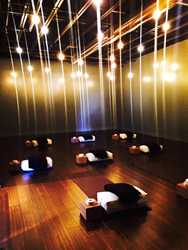 Austin, TX (PRWEB) October 09, 2017
This wellness studio, owned by Sariah Welch Lopez and Brandon Lopez, will feature yoga, acupuncture, massage and a tea/wine bar. Serasana® is the first acupuncture franchise to be established (2014) in the United States. Specializing in stress and pain management, Serasana® blends the ancient practices of acupuncture, cupping, gua sha, yoga, massage, workshops and healing remedies to create communities of hope and healing. Serasana® prides itself in serving all walks of life - regardless of age, size, ability or background - through gentle exposure to the healing potential of these ancient techniques.
This brand was created by Patti McCormick and her husband, Bill Gilliland. Patti began her early days as a petroleum engineer and made the interesting transition to acupuncture, yoga and wellness over 23 years ago. She has been a licensed acupuncturist in Texas for over 20 years and a yoga instructor for over 18 years. Bill, a seasoned builder and real estate developer, has been the perfect partner by designing and building several wellness spas and yoga studios. The couple decided to leverage their two decades of knowledge and share this unique aspect of the wellness industry with others by expanding the model they had already established in Marble Falls, Texas.
About Serasana®:
Serasana®, founded in 2014 and based in Austin, Texas, is a franchise structured as a Limited Liability Company. The model was inspired by its affiliate Sana Vida LLC, founded in 2004. Sana Vida Wellness Spa and Tea Bar, in Marble Falls, Texas, serves as the inspiration, idea incubator and training center for all Serasana® locations.
The offerings at Serasana can include, but are not limited to:

Gentle Yoga, Restorative Yoga, Chair Yoga, Kids Yoga, Hatha Yoga, Yin Yoga, and Vinyasa Yoga Classes
Private Yoga, Workshops and Yoga Teacher Trainings
Private Acupuncture, Group Acupuncture, Cupping, Moxibustion and Gua Sha
Focus Massage, Soothing Massage (for stress), and Therapeutic Massage (for pain)
Full Service Tea Bar with Loose Leaf Tea, Specialty Tea Drinks and Wine in select locations.
Tea Education and Tastings
Serasana® is expecting to open locations throughout Texas, Colorado, New Mexico, Arizona, Florida, Georgia, Massachusetts, North Carolina and more. Serasana® currently offers area developer and franchisee opportunities to qualifying entrepreneurs. The initial franchise fee is $35,000 and the total initial investment ranges from $375,000 to $595,000. Serasana® is positioned and prepared for steady and smart growth with its management team of over 20 years in wellness and development. For more information about franchise opportunities in your area, please visit http://www.serasanafranchise.com or call 800-604-0364.
Related Links:
http://serasana.com
http://sanavida.info
-END-