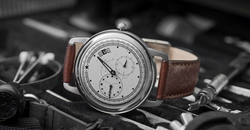 Chicago, IL (PRWEB) October 06, 2017
Designed using technology directly aligned with the principles of sustainable development and social responsibility, the Apollo watch launched on Kickstarter last week surpassing its $25,000 funding goal within 24 hours. The campaign now has over 180 loyal backers, and with 29 days left, Apollo is showing no signs of slowing down.
The Apollo watch's most unique feature is its 'double bubble' effect. The curved casing is made from Hesalite crystal, which is completely shatterproof, and has gone into space on multiple occasions. Apollo's materials were selected because of their incredibly heavy-duty properties in order to resist scratches or smudging. Additionally, the crystal on the watch is dome-shaped extending to the very edge of the watch's face. This function slightly magnifies the dial elements for better legibility from all angles and lighting conditions.
The international team behind Apollo hails from The United States, The United Kingdom and Italy with headquarters in both Chicago and Dubai. The team ultimately came together through their combined passion for watchmaking and aerospace.
"Our combined experience enables us to communicate what we actually want and how it has to be done, to our suppliers, rather than just buying what is offered," said Sales Director, Harriet Stewart. "In fact, every single part of the Apollo timepiece is custom-made to match our exigence for quality and design."
With mentions in publications, such as Wrist Watch Review and The Coolector, and over 180 backers on board, the Apollo watch is on track to begin production. With 29 days left to go, Apollo is set to introduce their latest stretch goal design, titled 'Saturn'. Additionally, on the last day of campaign, the team behind Apollo will select a lucky backer to win an an exclusive watch titled "Earth," hand-painted by UK artist Chris Alexander. To learn more and to see the campaign, visit http://bit.ly/Apollo_KS.