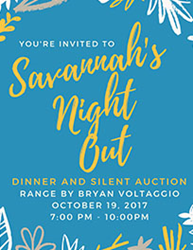 Annual fundraising events, such as Savannah's Night Out, raise money for grants that provide help to deserving, hopeful parents struggling with infertility who could not otherwise afford the cost of infertility treatments. We think it is extremely important to support our community
Washington, D.C. (PRWEB) October 05, 2017
Shady Grove Fertility will host the Cade Foundation's Annual Savannah's Night Out on Thursday, October 19, 2017, to raise funds in support of Savannah's Family Building Grant. This Family Building Grant will provide up to $10,000 in fertility treatment provided by Shady Grove Fertility. Savannah's Night Out will be held at the Range by Bryan Voltaggio in Washington, D.C., at 7: 00 p.m. Attendees will enjoy cocktails, dinner, silent auction, and live entertainment, while helping to make a difference in the lives of those who are fighting to overcome infertility.
In 2010, the Cade Foundation established the Savannah Grant, a family building grant that provides support specifically to Shady Grove Fertility patients pursuing parenthood through the use of in vitro fertilization (IVF). This grant is in honor of Savannah Caroline Pereira, an SGF baby who tragically died in March 2010.
In total, the Savannah Fund has raised more than $126,000 to support families struggling with infertility. To date, the Savannah Grant has supported seven families and there are now five Savannah Grant babies.
"Annual fundraising events, such as Savannah's Night Out, raise money for grants that provide help to deserving, hopeful parents who are struggling with infertility who could not otherwise afford the cost of infertility treatments. We think it is extremely important to support our community through events like this," said Jason Bromer, M.D., of Shady Grove Fertility's Frederick and Hagerstown, MD offices.
Purchase tickets to Savannah's Night Out or make a donation to support the Savannah Fund.
To schedule an appointment with one of SGF's 41 physicians, call 1-888-761-1967 or complete this brief online form.
About Shady Grove Fertility (SGF)
SGF is a leading fertility and IVF center of excellence with 50,000 babies born and counting—more than any other center in the United States. With 41 physicians and 28 locations throughout MD, PA, VA, GA, and D.C., we offer patients individualized care, innovative financial options, and pregnancy rates among the highest of all national centers. More physicians refer their patients to SGF than any other center. Call 1-888-761-1967 or visit ShadyGroveFertility.com.
About The Cade Foundation
The Tinina Q. Cade Foundation is a non-profit organization that serves the needs of families battling infertility through education, outreach, and grants. For more information about the Cade Foundation please visit http://www.cadefoundation.org