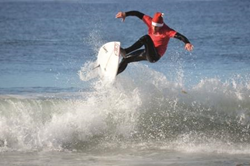 Dana Point, California (PRWEB) October 06, 2017
The Ritz-Carlton, Laguna Niguel presents its Annual Holiday Surfboard Auction and Surfing Santa Competition – which this year has expanded to a two-day competition that includes stand up paddle boarding. Honoring the resort's Community Footprints commitment to supporting worthy causes, these two seasonal events support Surfers Healing, the original surf camp benefiting children with autism.
This year, the Surfing Santa Competition will be a two-day event with heats both on Saturday, November 18 and Sunday, November 19 at Salt Creek Beach. The contest features ten divisions including new divisions for stand up paddle boarding. Prizes are awarded in each division for first through fifth place.
Divisions include:

Surfing Rudolph – Short Board – guys 18 and older
Santa's Elves – Short Board – guys 17 and under
Yule Loggers – Longboard – guys and girls of all ages
Candy Canes – SUP Surf – girls of all ages
Kris Kringles – SUP Surf – guys 18 and over
Mistletoes – SUP Surf – guys 17 and under
Tobogganers – SUP Race – guys 18 and over
Sleigh Riders – SUP Race – guys 17 and under
Holly Berries – SUP Race – girls 18 and over
Sugar Plums – SUP Race – girls 17 and under
In past years, prizes have included Carver skateboards, Sun Bum gift packs, Rip Curl watches, Incipio speakers, as well as wet suits, sunglasses, and other surf products. Additionally, all contestants are eligible for a $1,500 Big Air prize which is based on contestable air points throughout the day and a $500 First Place Costume prize and $200 Second Place Costume prize for the contestants who surf wearing the most creative holiday-inspired costumes. Surfers and stand up paddle boarders can register at http://www.SurfingSantaContest.org.
The Holiday Surfboard Auction showcases a selection of hand-painted surfboards from various artists that are displayed at the resort and auctioned off to benefit Surfers Healing. Donated surfboards include works by such artists as Wyland, Samantha Nicoletti, Robin Hiers, Dana Louise Kirkpatrick, Steve Wan, Katherine Hart, and Jason Rate, among others. Brawner Boards, Ellis Surfboards, Hobie, and Firewire also contribute boards in support of the cause. The auction runs from Saturday, November 18 to Sunday, December 31. Surfboards are on display at the oceanfront resort throughout the holiday season and bids can be placed at http://www.BiddingforGood.com/SurfersHealing.
"We are thrilled to celebrate our 10th year of hosting the Holiday Surfboard Auction," announced Bruce Brainerd, General Manager of The Ritz-Carlton, Laguna Niguel. "Each year we showcase an impressive selection of surfboards that are donated by supportive artists and shapers. It's because of their generosity that we are able to raise funds in support of Surfers Healing and their mission to enrich the lives of children living with autism," he added.
The concept for The Ritz-Carlton, Laguna Niguel's Holiday Surfboard Auction and Surfing Santa Competition was developed by General Manager Bruce Brainerd. In 2008, the Surfboard Auction raised more than $13,000. Two years later, the resort hosted the first Surfing Santa Competition. Since then, the resort has raised nearly $300,000 for Surfers Healing.
# # #
About Surfers Healing
Though Surfers Healing serves thousands, their mission exists because of one child. Izzy and Danielle Paskowitz founded Surfers Healing because of their son, Isaiah. Isaiah has autism, and when he struggled with meltdowns and sensory overload, riding the waves with his father calmed him like nothing else. Not everyone has a championship surfer for a Dad, so the Paskowitz family invited others to join them at the beach. Their idea caught on, and now Surfers Healing is a nationwide, grassroots non-profit organization. They are the original surf camp for children with autism and ALL of their events are free. Yet even though they had 4,500+ participants last year – and even though autism now affects 1 in 68 children in the U.S. – Surfers Healing doesn't think in thousands. They think in ones, because that's where they can effect change. One child. One family. One day at the beach.
About The Ritz-Carlton, Laguna Niguel
The Ritz-Carlton, Laguna Niguel is situated atop a seaside bluff with panoramic views of the Pacific Ocean and more than three miles of sandy beach. Presented against an extraordinary backdrop, the resort continues to redefine the guest experience by creating distinctive and unforgettable moments that instill memories that last a lifetime. Make the oceanfront resort a part of your travel plans and #DiscoverYourMoment. The resort offers many extraordinary luxury experiences including Raya, 180blũ, The Market Place, enoSTEAK, Bar Raya, The Ritz-Carlton Spa and the Eco-Adventure Center. For more information or reservations call 800-241-3333, the hotel directly at 949-240-2000, a travel professional or visit http://www.ritzcarlton.com/LagunaNiguel.