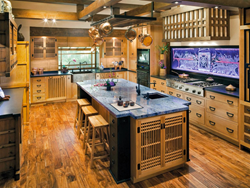 (PRWEB) October 06, 2017
News for Virginia homeowners planning a kitchen remodeling soon. Leading Fairfax based home renovation company Kitchen and Bath VA has recently announced to extend remodeling services for every kind of kitchen style with due respect to the specific culture and lifestyle of the clients.
"Kitchen is the place where we find ourselves, our native taste and our roots. Thus, no matter in which corner of the world your present home is, your kitchen should reflect the very feel of your own culture and motherland. This way you would be able to connect better with your native food, taste and culture, even when you are residing in a foreign country. Virginia is a melting pot of various cultures from all over the world. It would be an injustice to design a generic kitchen for different ethnicities as it won't help them to resonate to the culinary experience. Such a realization inspired us to educate ourselves on the different styles of kitchens so that we can remodel your kitchen just the way you wish to – as per your specific culture, belief and tastes", stated David McGavin, the man behind Kitchen and Bath VA.
A name of high repute across VA bath and kitchen remodeling scene, Kitchen and Bath VA has been operating for over a decade now. The company has assured to provide expert assistance with various styles of kitchens including American traditional, Middle-Eastern, Chinese, European and so on.
"We promise you a thoroughly customized kitchen remodeling service based on your particular needs and lifestyle. We start every project with a thorough discussion with our clients so that we can understand the specific nuances of their cultural backgrounds. All your particulars would be duly incorporated during the kitchen remodeling phase. We do recognize that people from different cultures would have different choices. And, we heartily welcome all your inputs to ensure the perfect kitchen for your home."
The company has assured a comprehensive remodeling service right from the start till the last day of the project. McGavin stressed on his well-equipped team armed with highly trained designers, personnel and staff who are committed to ensure a spectacular kitchen remodeling service. From countertops to cabinets to plumbing- Kitchen and Bath VA promised quality assistance at every step of the kitchen remodeling projects.
"We are operating for a decade now and we know what it takes to ensure a high end kitchen remodeling service. We guarantee to exceed your expectations through our professional service and strict attention to every detail. Customer satisfaction is the main watchword here and we will be by your side at every step of the project. We also keep ourselves updated about the latest construction products and types to help our customers with dynamic and trendiest of kitchens."
For more information, please visit http://www.kitchenandbathva.com.