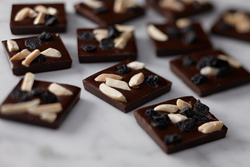 Kohler, Wisc. (PRWEB) October 05, 2017
Kohler Co. is pleased to announce that KOHLER Original Recipe Chocolates' Chocolate Mint Brandy and Dark Chocolate Brandy were recognized at the 2017 Global Spirit Awards; the Chocolate Mint Brandy received the Gold Medal distinction, while the Dark Chocolate Brandy received the Bronze Medal distinction. Each flavor of brandy is currently available at the Forbes Five-Star and AAA Five Diamond resort-hotel, Destination Kohler, as well as other select retailers and restaurants in the Wisconsin region.
"We were thrilled to be honored at the Global Spirit Awards for our growing brandy collection," said Gerald Allison, Business Manager of KOHLER Original Recipe Chocolates. "Having just entered the spirits industry last year, this distinction is especially important, and exemplifies our brand's dedication to offering the highest level of quality products and experiences."
Over 100 independent distilleries showcased more than 275 spirits at this year's Global Spirit Awards, which took place at the Tropicana Hotel in Las Vegas, August 16-18. Former USA Mixologist of the Year, Bobby "G" Gleason, and Steve Beal, world-renowned spirit expert and former judge at International Wine & Spirits Competitions, were among the panel of nine elite judges who voted on the impressive list of entries.
In October 2016, KOHLER Original Recipe Chocolates expanded its portfolio by venturing into the alcohol industry with the launch of the Dark Chocolate Brandy. The velvety smooth spirit is naturally infused with notes found in KOHLER Original Recipe Chocolates' dark chocolate and evokes a combination of aromas, from rich chocolate, to fruit, to a hint of nut. The full-bodied spirit is produced at the acclaimed Central Standard Distillery in Milwaukee with 70 proof, 30% alcohol. In March 2017, the brand introduced the Chocolate Mint Brandy, which is infused with Kohler's all natural, 72% dark chocolate, and boasts a sweet mint taste with subtle hints of hazelnut and crisp, cool peppermint.
History of KOHLER Original Recipe Chocolates
The KOHLER Original Recipe Chocolates story begins with turtles, and not just an ordinary turtle – a complex blend of chocolate; smoky, burnt caramel and finished with salted pecans hand-picked for their size and perfection. The turtle that went through rigorous testing, many recipe tweaks and extensive sampling was perfected by the renowned chefs at Destination Kohler and blessed by Kohler Co. Executive Chairman, Herbert V. Kohler, Jr., to launch KOHLER Original Recipe Chocolates in 2007.
Today, the original Terrapins have become the foundation for a thriving chocolates business that refuses to clutter the marketplace, and seeks to explore limitless opportunity in taste with natural raw ingredients. The Terrapins have since been expanded into four delicious varieties and the company has continued to diversify its line of chocolates.
In 2016, Kohler Co. entered a new market with the launch of the KOHLER Original Recipe Chocolates Brandy; the spirit is naturally infused with Kohler's dark chocolate, providing an unmatched spirits taste and experience.
KOHLER Original Recipe Chocolates signature lines are available year-round at the Craverie Chocolatier Café and online at KohlerChocolates.com. The Craverie Chocolatier Café is one of 12 dining establishments throughout Destination Kohler, located in Kohler, Wisconsin. The resort boasts four Championship golf courses at Whistling Straits and Blackwolf Run and a Forbes Five-Star Kohler Waters Spa. Stay up to date on resort happenings on Facebook, facebook.com/americanclub and on Twitter, http://www.twitter.com/theamericanclub.
For more information, please call 800-344-2838 or visit DestinationKohler.com. Stay up to date on brand and resort news and happenings on Facebook, Twitter and Instagram.
About Kohler Co. Hospitality & Real Estate Group
The Kohler Co. Hospitality & Real Estate profile includes The American Club, boasting the first and only Forbes Five-Star hotel property in Wisconsin, and world-renowned championship golf courses Whistling Straits and Blackwolf Run. Acquired in 2004, its sister property, The Old Course Hotel, Golf Resort & Spa in the birthplace of golf, St Andrews, Scotland, is a AA Five Red Star property and recognized as one of the most luxurious resorts in the world.
About Destination Kohler
Herb Kohler created Kohler Co.'s Hospitality & Real Estate Group with the reclamation of The American Club, the first and only Forbes Five-Star hotel in Wisconsin, and then built world-renowned championship golf courses, The Straits at Whistling Straits and The River at Blackwolf Run. The resort is named one of the top three golf resorts in North America, by Golf Digest Magazine. Kohler Waters Spa is the only Forbes Five-Star spa in Wisconsin and one of 56 in the world. The resort features 12 dining establishments from the Four-Star Immigrant to traditional pub fare at Horse & Plow and rustic country gourmet at River Wildlife. The resort is located in the Village of Kohler, Wisconsin, one hour north of Milwaukee and two and a half hours north of Chicago.