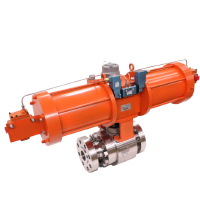 This certification ... solidifies our belief that our pulsejet valve with EcoPack® technology is a superior product, solving ongoing severe service issues
Houston, TX. (PRWEB) October 11, 2017
ValvTechnologies, Inc., the global leader in the design and manufacturing of zero-leakage high-performance valve solutions, announced today that its pulsejet valve with EcoPack® technology has received ISO 15848-1:2015 certification from Odin Heavy Industries.
In a committed effort to reduce fugitive emissions, ValvTechnologies' product engineers developed the pulsejet valve with EcoPack®, a superior stem packing solution for high-cycle, fast acting valves designed to meet critical fugitive emissions standards.
To earn ISO 15848 certification, ValvTechnologies underwent a stringent evaluation process that included a series of 17 helium leak tests and eight thermal cycles on a fully assembled valve over a period of 100,000 cycles. After test completion, the valve was disassembled and all sealing components were examined for notable wear and any other significant observations. Odin Heavy Industries verified the valve not only met but exceeded endurance testing standards of endurance class CC3 (100,000 cycles) at Class CH tightness.
"Exclusive ISO 15848 certification is another way ValvTechnologies can help customers achieve compliance while showcasing our dedication to plant safety and reliability," said Josh Nelson, Product Engineer. "This certification of meeting fugitive emissions standards for 100,000 cycles on a valve designed to close in less than half a second solidifies our belief that our pulsejet valve with EcoPack® technology is a superior product, solving ongoing severe service issues."
ValvTechnologies is the leader in the fast-acting, high-cycle, fugitive emissions valves. This achievement validates that our EcoPack® technology is unmatched in the industry.
About ValvTechnologies
Founded in 1987 and headquartered in Houston, Texas, ValvTechnologies is the leading manufacturer of zero-leakage, severe service isolation valve solutions. Employing more than 500 people worldwide, our offices are located in the United Kingdom, Mainland Europe, China, Middle East, India, Australia and South America. In addition, ValvTechnologies partners with stocking distributors and independent representatives to service customers around the world. To find out more about the products and services offered or to locate a representative, visit our website at http://www.valv.com.