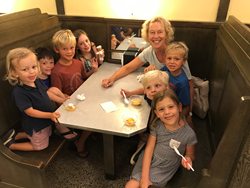 Sherry Artemenko has an exceptional background working with children to improve their speech and language, and her experience adds depth, candor and integrity to each of her reviews
(PRWEB) October 19, 2017
Play On Words LLC, led by highly respected speech language pathologist Sherry Artemenko, announces 2017's Fall PAL Award Winners, the toy industry's only recognition directed by a credentialed speech-language expert recognizing the language learning edge in exceptional toys, games and media. Sherry's 35 years of child development experience with over 17,000 hours working with kids empower her PAL selections, video reviews (Today Show), popular blog, media appearances and consulting practice.
This summer, Gary Swisher, Senior Vice President of Inventor Relations at Mattel shared his view of key toy and game trends. At the top of his list was, "Experts are now recognizing the connection between Play and Learning," and how, "toys have always been tools for the imagination." Noting that many successful people share the attribute of "a great imagination," he's excited that people are now realizing that toys and games are powerful tools to get young imaginations growing. It's exciting to be a part of this movement to promote imaginative play experiences through the PAL Award.
Sherry continues to have a presence in the classroom, observing students' unique creative play with PAL winners. "Only kids would think of using the instruction booklet as a wall panel or roof, while building a dollhouse. You have to be there to see it, and understand how PAL winners spark creativity!"
Playonwords.com helps companies see the strategic value of language learning in play, and how building categorical vocabularies (e.g. STEAM), facilitating social interaction and encouraging great pretend play and storytelling can be as important as any classic toy or game feature.
Leveraging the PAL Seal on the internet, packaging and in print media, along with customized promotional videos, as seen on the TODAY SHOW last year with "mompreneur" client SmartNoggin, differentiates brands who know the marketplace now demands products that are not only fun, but also infused with learning potential. The PAL Award seal tells customers that more than great entertainment is to be found inside the box or book cover.
EARLY DEVELOPMENT: Sherry's experience in pediatric speech therapy has given her an eye for the best products to build attention, vocabulary and concepts through play, preparing children for their first sounds, words and sentences. While jamming musical sequences on a drum, scooping ice cream flavors in order, taking a mini safari through the jungle or being splish-splashed by a Soggy Doggy, kids learn essential foundational language skills.

4-in-1 Stroll & Grow Tek Trike by VTech
Alex My Music Band Set
Alex My Music Play Table
GeerZooz Roll & Roar Animal Train by VTech
Hatchy Matchy Game by Spin Master
Janod Baby Forest Train
Janod Mini Story Safari
Kaloo Bebe Large Rabbit Grey
Kaloo Bebe Medium Bear Peach
Kaloo Kaloodoo
Luvabella by Spin Master
Magicube Dinosaurs by Geomagworld
Magicube Polar Animals by Geomagworld
Pop-a-Balls Push & Pop Bulldozer by VTech
Pull & Discover Activity Elephant by VTech
Scoop and Learn Ice Cream Cart by LeapFrog
Soggy Doggy By Spin Master
Step & Learn Scout by LeapFrog
Zoo Jamz Stompin' Fun Drums by VTech
READING / WRITING: Configuring words with letter blocks, listening, watching and following words as a cuddly bear reads a story, practicing letters and drawing on a convertible desk, or playing a game of creating words from selected letters, children can pick up essential skills to advance reading and writing.
2-in-1 LeapTop Touch by LeapFrog
Ideal 4 Way Spelldown
LeapStart by LeapFrog
Parker the Monkey--Talking Educational Tool by Kayle Concepts
Silly Scents Bundle by Crayola
Tad's Get Ready For School Book by LeapFrog
LANGUAGE STRUCTURE, CRITICAL THINKING AND REASONING: These outstanding products can build language structure, critical thinking and reasoning, often teaching vocabulary, concepts or grammar while delivering fun. Interview friends and family for your Time Capsule, be a future coding robot and map out your route on a life-size grid, express feelings and problem solve through an interactive app, or exercise critical thinking skills while experimenting with making fizzy bath salts to strengthen communication skills.
Invisible Think by Mindware
LeapFrog Academy by LeapFrog
Science Academy: Bath Bomb and Bath Scrub by Mindware
Parker, Your Augmented Reality Bear by Seedling
Top Trumps by Top Trumps USA Inc.
UNBORED: Time Capsule by Mindware
STORY-TELLING / PRETEND PLAY: Whether cooking up a spicy meal, adopting a pet from their constructed Pet Place, dancing in a seashell castle, or staging a puppet show, children enter the world of pretend, creating their own stories with plenty of flexible props to guide their imagination. Oral story-telling precedes writing as kids learn the steps to create a good narrative.
Dog Stage Puppet by Folkmanis
Doll Family Mansion by Hape
Go! Go! Smart Friends Shimmering Seashell Castle by VTech
Go! Go! Smart Wheels Race & Play Adventure Park by VTech
Hen Puppet by Folkmanis
Hide & Seek Rock Painting Kit by Creativity for Kids
Imagination Makers Building Tub by K'Nex
Kid K'Nex Budding Builders
Kinetic Sand Magic Molding Tower by Spin Master
PAW Patrol My Size Lookout Tower by Spin Master
Pet Place by Wonderhood
Pirates of the Caribbean Silent Mary Ghost Ship Playset by Spin Master
Sweetlings-Frost a Friend by Alex Toys
Toad Puppet by Folkmanis
Town House by Wonderhood
SOCIAL LANGUAGE: Complementary to pretend play, social language blossoms when children play with toys and games and interact with media that encourage extended social interactions. Gaining confidence while telling a story and performing magic tricks, or interacting with an app that teaches patience, motivation and teamwork, can equip kids to better name, understand and manage their emotions and relate to others, leading to stronger EQ's.
Alex DIY Happy Little Loom
World's Greatest Magic Show by Thames & Kosmos
Q Wunder App by EQtainment
UNBORED: Carnival by Mindware
ABOUT PLAYONWORDS, LLC
Playonwords.com was founded by well-respected speech-language pathologist, Sherry Artemenko. Her 35 years championing language rich play, esteemed PAL Award, popular blog, and insightful tips to parents set her apart as the leading advocate of the language component in toys.
Over 17,000 hours working directly with children has shown her that a unique set of the best toys, games and books have the capability to develop language while delivering great play. Studies show:
Kids with highest IQs at three, had the most words at one and two
Language learning is cumulative – early words => early sentences => language and reading
Most kids maintain their verbal advantage through childhood
Sherry established the PAL Award to identify unique toys, games and media that through their design, quality and character, encourage play that advances language. PAL winners in the hands of kids, spark fun and creative play with lots of talk. Such toys, recognized on the basis of her child development expertise, are complemented by practical coaching in her blog, showing parents and caregivers how to get the most from toys, games and media to build language and underlying cognitive skills.