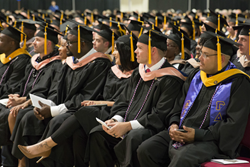 Orange Beach, Alabama (PRWEB) October 05, 2017
On Friday, Oct. 27, 2017, Columbia Southern University (CSU) will conduct its annual commencement ceremony at the new Foley Event Center at OWA for the first time. The ceremony will begin at 10 a.m. CST and approximately 657 graduates and 3,800 guests are expected to attend.
The keynote speaker for the ceremony will be Erin Gruwell, a teacher, author and founder of the Freedom Writers Foundation. The Freedom Writers Foundation teaches educators around the world how to implement innovative lesson plans using a progressive teaching philosophy and curricula designed to achieve excellence from all students. Gruwell's story was brought to the big screen in the 2007 film "Freedom Writers."
"We are thrilled to have Erin Gruwell join us for the 2017 commencement ceremony," said CSU President Robert Mayes. "Leaders like Erin and organizations like The Freedom Writers Foundation are an inspiration to students everywhere. We're excited to hear her message for our 2017 graduates."
After years of holding two ceremonies at the Orange Beach Event Center, CSU will hold one ceremony at the Foley Event Center at OWA due to its larger capacity.
"Commencement is always a special milestone for our students, staff and faculty," said Mayes. "Each year, our graduates travel to Orange Beach from all over the world to commemorate this accomplishment with their family and friends, and we are looking forward to having everyone celebrate together this year in a single ceremony."
The day before commencement, CSU will conduct an open house at its University Lane location in Orange Beach from 10:30 a.m. to 2:30 p.m. on Oct. 26, 2017 where faculty and staff will greet graduates and guests. For more information about CSU commencement activities, please visit ColumbiaSouthern.edu/Commencement.
About Columbia Southern University
One of the nation's pioneer online universities, Columbia Southern University was established in 1993 to provide an alternative to the traditional university experience. CSU offers online associate, bachelor's, master's and doctoral degrees such as business administration, criminal justice, fire administration and occupational safety and health. Visit ColumbiaSouthern.edu or call (877) 347-6050 to learn more.