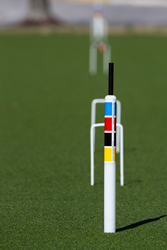 Annapolis, MD (PRWEB) October 06, 2017
The Maryland Senior Olympics in Croquet was co-hosted this past weekend by the Croquet Club at Ginger Cove (Annapolis, MD) and the West River Wickets Croquet Club (West River, MD). A total of 30 players competed in two flights, based on croquet handicaps. Players came from Annapolis, Galesville, Baltimore, Bethesda, Rochester NY, and Charlotte NC.
The competition was played at two facilities, Ginger Cove, which utilizes artificial turf, and the Wayson Lawn, which features grass courts. Awards were presented at a closing ceremony hosted by Ginger Cove.
In Flight A (the Championship Flight), medals were awarded to:
           
Gold: Lee Jorde (WRW) and Peter Stevens (WRW) 
Silver: Byron Lee (GC) and Sue Sherer (Rochester) 
Bronze: Rich Laging (Rochester) and Hugh Collie (Baltimore)
In Flight B, medals were awarded to:
Gold: Jamie Chan (WRW) and Jerry Reed (GC)
Silver: Sue Laging (Rochester) and Bobbie Pittman (WRW)
Bronze: Linda Bowers (Rochester) and Jane McCarl (GC)
About Ginger Cove
Founded in 1988, Ginger Cove is Annapolis' premier life care retirement community. Located on 30 wooded acres along Gingerville Creek, it is home to 350 active residents. For more information about Ginger Cove, visit http://www.gingercove.com or call (410) 266-7300.