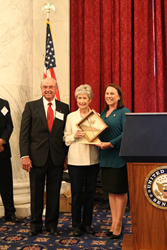 WASHINGTON, D.C. (PRWEB) October 05, 2017
Today, the American Tree Farm System (ATFS) announced the 2017 National Outstanding Tree Farmers of the Year award has been given to Glenn and Scarlett Riley of Abbeville, Alabama. The Rileys have spent more than 60 years caring for a 283-acre Tree Farm, making a considerable effort to create wildlife habitat for at-risk species, specifically the threatened gopher tortoise.
"We are humbled to have been chosen as this year's National Outstanding Tree Farmers of the Year," said Glenn Riley. "We are not professionals in anyway, but believe in hard work, and have cared for this land to the best of our ability. We are thankful for all the people who have helped us along the way, including members of the American Tree Farm System. Now we want to pay it forward, and do what we can to help others who may need advice or encouragement to take an active role in their land."
Glenn and Scarlett Riley were presented with the award by Alabama Congressman Martha Roby at a reception on Wednesday evening in Washington, D.C.
"Alabama is nearly 70 percent forested, with the majority of this forestland being owned by families and individuals," said Congressman Martha Roby. "The Rileys exemplify what it means to be a true caretaker of our important natural resources, both in Alabama and across our country. I congratulate them on their award."
"As hubs of recreation, homes to unique wildlife, and the lifeblood of a thriving forestry industry, Alabama's forests are a source of pride for our entire state," said Alabama Senator Luther Strange. "It is an honor to serve on the Senate Agriculture, Nutrition and Forestry Committee, and I am glad to join in celebrating this American treasure."
More about Glenn and Scarlett Riley:
Glenn and Scarlett inherited their land from Scarlett's family with no formal forestry training and little knowledge of forest management. Early in their ownership, much of their learning came from trial and error. For example, in order to combat erosion, the Rileys planted an invasive species—kudzu—because they heard success stories from overseas. The kudzu quickly took over, suffocating other plants. This lesson prompted a lifelong quest for Glenn to learn as much as possible about sustainable management.
He sought the help of foresters and other professionals to not only assist him, but also teach him practices that were good for the land. He learned how to conduct prescribed burns to promote low vegetation for wildlife and how to create fire breaks for safety for his forest and family.
Glenn's thirst for knowledge led him to the American Tree Farm System (ATFS). ATFS's Standards of Sustainability, which all Tree Farmers must adhere to, provided him with the guidance on sustainable forest management he needed. The ATFS network of other Tree Farmers, and events held by ATFS, also provided Glenn with new information and perspectives on different styles of management.
In the early 2000's, Glenn began focusing his efforts on improving wildlife habitat, particularly for at-risk species. Thanks to the sandy soil on their property, Glenn and Scarlett had longleaf pine, which provided key habitat for the at-risk gopher tortoise. Glenn worked over the next several years to enhance these stands, and to plant an additional 60 acres of longleaf. Since, he has put in considerable effort, including conducting annual prescribed burns to help the longleaf habitat thrive. Gopher tortoise burrows have increased across their property, and the Rileys are careful to stake them so they remain undisturbed by visitors and heavy equipment.
"Glenn and Scarlett are excellent examples of the impact landowners can have, even without formal forestry background," said Tom Martin, President and CEO of American Forest Foundation, the conservation organization that administers ATFS. "Many landowners want to do right by the land, but lack the technical expertise needed. The Rileys never let that stop them; they sought out assistance and grew in their knowledge, and passion, for forestry. Programs and tools like the American Tree Farm System are available to help landowners get started, and to help them reach their goals of keeping forests healthy, and providing clean water, wildlife habitat and sustainable wood supplies. We are thrilled to recognize the Riley's for their above-and-beyond efforts to care for their land."
Each year, ATFS recognizes four Regional Outstanding Tree Farmers out of the 74,000 Tree Farmers nationwide. This year, ATFS is proud to also recognize the regional awardees: Ned and Jean Therrien from New Hampshire; Jim and Schatzi Ball from Missouri; and the Chrisman family from Montana, in addition to the Rileys.
Individuals considered for the award must demonstrate exceptional efforts to care for their woodlands and provide the clean water and air, wildlife habitat, recreational activities, and the wood supply that all Americans count on from U.S. forests.