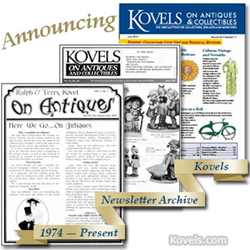 Cleveland, Ohio (PRWEB) October 06, 2017
The antiques experts at Kovels.com have been working hard to digitize and index all Kovels On Antiques & Collectibles newsletter back issues and — it's finally done! Now subscribers can access all of Kovels' newsletters — from 1974 to today — on Kovels.com.
Each monthly newsletter, from Kovels' inaugural issue in September 1974 through the present, is now available to Kovels.com Premium subscribers as a downloadable and searchable PDF. Kovels On Antiques & Collectibles monthly newsletter is packed with "must know" information to help serious and novice collectors and dealers keep up with the fast-changing world of antique, vintage and collectible treasures.
Kovels' experts continue to keep readers up-to-date on identification, prices, and popularity of their favorite antiques and collectibles. Users can see the market trends first hand, and experience the passion for antiques and collecting in each issue.
The complete Kovels on Antiques & Collectibles archive collection is available as part of the premium subscription content available on Kovels.com. New subscribers or those who renew now can get 2 months free. To access the digital archives, go to Kovels.com, Kovels Premium, then Current & Past Issues.
Terry Kovel is America's foremost authority on antiques and collectibles. She is the well-known columnist and author of more than 100 books on antiques and collecting. The all-new 2018 50th anniversary edition of Kovels' Antiques & Collectibles Price Guide is currently available at Kovelsonlinestore.com and local bookstores. Terry Kovel will discuss antiques and collectibles topics with accredited media. Photographs are available. Contact pr(at)kovels(dot)com.
About Kovels.com
Kovels.com, created by Terry Kovel and her daughter, Kim Kovel, provides collectors and researchers with up-to-date and accurate information on antiques and collectibles. The company was founded in 1953 by Terry Kovel and her late husband, Ralph. Since then, the Kovels have written some of America's most popular books and articles about antiques, including the best-selling annual Kovels' Antiques & Collectibles Price Guide, now available in its 50th edition. The website, Kovels.com, online since 1998, offers more than a million free prices, and includes a free weekly email, "Kovels Komments." It gives readers a bird's-eye view of the market through the latest news, auction reports, a Marks Dictionary, readers' questions and answers and much more.
Contact Information:
Liz Lillis
216.752.2252
Pr(at)kovels(dot)com