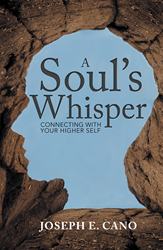 MIAMI (PRWEB) October 16, 2017
Inspired by his personal journey, Joseph E. Cano presents a book that provides readers with the experience of transformation and growth through self-realization in "A Soul's Whisper: Connecting with Your Higher Self."
The book is a convergence of eastern spiritual philosophies and western science in a matter that is easily understood by readers. The content will expand the consciousness of readers, allowing them to recognize the essence of who they are at their core.
"I wrote this book because I recognized that the concepts I applied to my life could be of benefit to many others," said Cano. "The ideas that are expressed can be applied to several aspects of life, including how to better one's self while also bringing joy and happiness to other lives."
"A Soul's Whisper: Connecting with Your Higher Self" is a beautifully composed book that provides the reader with the opportunity to experience personal transformation and growth by connecting to the higher self.
"A Soul's Whisper: Connecting with Your Higher Self"
By Joseph E. Cano
ISBN: 9781504384414 (softcover); 9781504384421 (hardcover); 9781504384407 (eBook)
Available at the Balboa Press Online Bookstore, Amazon, and Barnes & Noble
About the author
Diagnosed at the age of eight with facioscapulohumeral dystrophy, a form of muscular dystrophy, author Joseph Cano learned the ambiguity and beauty of life at an early age. After spending several years in reflection and studying the wisdom provided by some of humanity's most influential individuals and bodies of work, he published his debut book "A Soul's Whisper: Connecting with your Higher Self." When Cano is not embracing his passion for learning or writing, he is making an impact by assisting others grow emotionally and spiritually. To learn more, please follow him on Instagram @j.e.cano and Facebook @Joseph E. Cano – Author.
###
Review Copies & Interview Requests:
LAVIDGE – Phoenix
Bryan Beach
480-306-6554
bbeach(at)lavidge(dot)com
General Inquiries:
LAVIDGE – Phoenix
Kalin Thomas
480-648-7560
kthomas(at)lavidge(dot)com