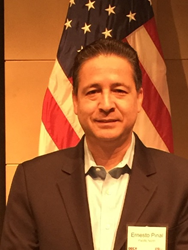 At nextScan, our mission is to bring the very best microfilm preservation technology to consumers around the world. As an experienced exporter, I look forward to helping other companies showcase their products around the globe.
Boise,ID (PRWEB) October 07, 2017
Idaho's District Export Council member Ernesto Pinal was elected to serve on the National Steering Committee for the Pacific North District Export Council. Mr. Pinal, is the Director of International Business Development for nextScan, a world leading manufacturer of micrographics equipment. The Pacific North District Export Council serves North California, Utah, Oregon, Washington, Montana, Alaska and Idaho.
On Sept. 27, 2017, Pinal began his two-year term on the National Steering Committee where his role will be to advocate nationally on trade issues and challenges relevant to Idaho and the other six states that comprise the Pacific North District Export Council.
The Idaho District Export Council (IDEC) is one of 59 nationwide District Export Councils whose members are appointed by the U.S. Secretary of Commerce to provide support and guidance to the international business community. The IDEC accomplishes this by amplifying the export promotion efforts of the U.S. Department of Commerce's U.S. Commercial Service Office in Boise, and by counseling, educating and mentoring local Idaho businesses; identifying sources of trade and project finance; and researching key issues affecting U.S. and Idaho industry competitiveness in the global marketplace. Pinal has been with nextScan for 11 years and has over 18 years of experience in the high-tech industry and has held multiple positions in a diverse pool of small, medium and large size organizations. Some of his recent achievements include:

Recipient of the 2015 Small Business Administration Exporter of the Year Award
Recipient of a U.S. Commercial Service Export Achievement Certificate, 2014
Member of the IDEC Legislative Committee and Liaison to U.S. Senator Mike Crapo's Office
About nextScan
nextScan a Division of Digital Check Corp. is located in Meridian, Idaho and develops and manufactures hardware and software for the digitization of microfilm and microfiche. nextScan develops all of its hardware and software locally, contributing to the innovation and intellectual property advances of Idaho and the U.S. 36% of nextScan's deployments are exports and this focus on international trade growth has contributed to new job creation within this Idaho company. nextScan's international business department has increased the company's global presence to include business in 44 countries located on five continents.
nextScan is an innovative world leader developing quality products for the micrographics conversion and document management industry. Incorporated in 2002 and acquired by Digital Check Corp. in 2015, nextScan was established to give the microfilm and microfiche conversion market a high performance alternative to existing technologies. nextScan's innovative patented products are designed and built with simplicity and functionality to increase user production and lower overall costs for scanning film and fiche.
Designed with cutting edge components – the latest in camera, lighting, image correction, nextScan's revolutionary hardware and software systems provide a full conversion solution that far exceeds return on investment when compared to other options in the market. With over 80 years of combined micrographics development experience, nextScan is proud to bring the next generation of high performance scanners and software solutions to the world.