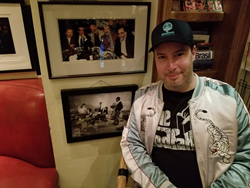 I look forward to hand picking the next generation of film students who are the best of the best, and help them break through into the film industry working alongside of A-list industry veterans. - Jeffrey "Blue Shark" Gliwa
Los Angeles, CA (PRWEB) October 05, 2017
Biker MacBeth
The classic tragedy is relocated to a contemporary setting where rival biker gangs struggle for dominance. Avarice for power plays out against a background of heavy metal in the American southwest.
Duck, Duck, Goose
"Napoleon of Crime" James Moriarty escapes the pursuit of Sherlock Holmes in 1912 London, but is physically transformed when he travels forward in time to contemporary California. As he wrestles with his new circumstances, an invalid girl helps him. Her disapproval makes him reconsider his morally bankrupt life.
The latest film produced by Blue Shark Pictures and Plaster City Productions Inc. is "Torch", which is the follow up to 2015's "Sacred Blood". Torch will have its world premier at the 40th Anniversary of the prestigious Mill Valley Film Festival on October 8th at 9pm. Tickets for the premier can be purchased here; https://tickets.cafilm.org/websales/pages/info.aspx?evtinfo=316757%7E983c845f-a11a-4407-a254-d45cc3fdaab3&epguid=a1ad63af-e5ba-48a3-940d-9a52532417fb
Torch
Traumatized by witnessing the murder of her parents as a child, a young woman returns to her jungle home with a new husband only to discover that sinister forces still threaten her.
Sacred Blood
Infected by a vampire, a young circus performer flees her native country for San Francisco. There she finds others of her ilk but rejects affiliation with them and takes up instead with an infatuated young artist.
About Jeffrey Gliwa: Jeffrey Gliwa (known as "Blue Shark") is an executive producer and founder of Blue Shark Pictures, LLC. He translated his talent for production and promotion into film fund raising ventures with a focus on introducing legacy talents to the industry. Blue Shark Pictures specializes in pairing talented, up and coming aspiring filmmakers with industry veterans and helping them break through into the film industry.
Blue Shark Pictures website; http://bluesharkpictures.com/
CRCoppola / Blue Shark Pictures Website; http://crcoppola-bluesharkpictures.com/
Jeffrey Gliwa's website; http://jeffreygliwa.com/ and IMDB page; http://www.imdb.com/name/nm7627683/