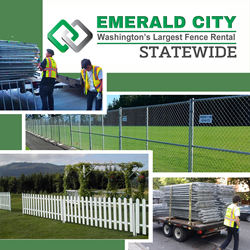 "Being an independent, family-owned local business means a lot to us" says owner, Bob Bartell
Seattle, WA (PRWEB) October 09, 2017
Recently, Emerald City Fence Rentals and Statewide Rent-a-Fence announced combining their operations. They now service the construction and event industry of entire Pacific Northwest from four locations - Seattle, Renton, Pasco and Spokane. It allows the company to accomplish its goal - providing highest possible level of service by becoming Washington's largest fence rental company.
The new owners, Bob and Alina Bartell are excited about the company's increased capacity of delivery, servicing large variety of jobs and efficiency of doubling the size in such an energetic time of growth for our region. The retiring owner of Statewide Rent-a-Fence, Bill Bardon, carried his business for over fifty years. Bill has successfully built a large operation, starting in 1960's and servicing temporary chain link fence, as well as picket fence to both construction and event industry. His business has always been family owned and based on high quality of service, large stock of inventory and ability to deliver promptly. "Although our competition has increased over the decades, we've never abandoned what made us a successful in the first place; a strong commitment to customer service, and our family-based ideals and atmosphere", are Bill Barton's words.
Similarly, Emerald City Fence Rentals has been established in 1987 and grew steadily throughout the region, becoming the premier supplier of rental fence in Seattle area. Emerald City is taking over the operations of Statewide expanding, innovating and increasing the quality of service even further.
Businesses will be run under joined name Emerald City Statewide and with combined four locations, Emerald City Statewide is now the largest rent-a-fence company in Washington state. The two companies will also operate under their respective names until the full transition is completed.
Work has already been done on improvements to Statewide's Seattle yard, increasing the capacity for the Will-Call orders. Joined companies are implementing state of the art computer programs, increasing accuracy and efficiency of deliveries and ordering. A unique, instant ordering website system is already available at the website rent-fence.com
Emerald City Statewide is run by team of seasoned professionals from both companies under the guidance of General Manager, George Capestany. You are welcome to give him a call at 800-448-7772, or stop by at Statewide Seattle location, 13728 Beacon Coal Mine Rd South, Seattle, WA.
"Being an independent, family-owned local business means a lot to us" says owner, Bob Bartell. "We are very excited to join forces with another business of similar values and are looking forward servicing the entire Washington state with rental fence services. With an increased size, there are great many opportunities to serve our customers even better".