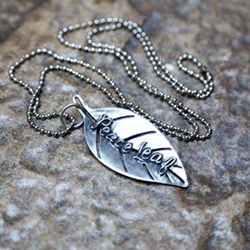 We All Need Peace
Los Angeles, CA (PRWEB) October 10, 2017
Introducing THE PEACE LEAF from the studio of Whitney Howard Designs.
The Peace Leaf is a unique charm developed in the studio of Whitney Howard Designs.
The Peace Leaf represents the peace each of us needs no matter how you look at it.
Peaceful Heart
An olive branch to repair a friendship
A mind at Peace
Change, Growth, the turning of a new leaf
Peace for the world
A meaningful gift for holidays throughout the year.
Now more than ever, we crave Peace.
The Peace Leaf, a meaningful gift for someone special.
ABOUT US:
Whitney Howard Designs is a design team that creates heartfelt and meaningful accessories for life's journey. Inspired by life and the everyday moments and celebrations, we have created a collection that is totally interactive. Our booth at retail shows is really busy because our collection allows people to create the exact gift for the person they are gifting. Whitney Howard Designs accessories are created with your life in mind. We have something for everybody and our hand crafted goods are affordable and relatable. Whoever is in your life and whatever they are going through, Whitney Howard Designs has something to support that person's life journey. Our accessories are constant reminders of life's events.
We are totally inspired by The Journey; let us take you on ours!