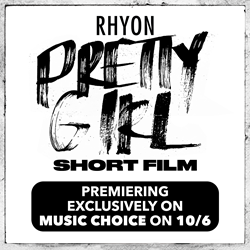 New York, NY (PRWEB) October 06, 2017
Music Choice, the leading music provider on TV, today announced that it has reached a distribution agreement with San Francisco based EMPIRE, the leading independent distribution company and record label for urban music, for the rights to distribute its entire catalog of 8,000 music videos in the US and International markets. The independent distributor brings access to recent music videos from Fat Joe, D.R.A.M., Anderson .Paak, Tyga, XXXTENTACION, Snoop Dogg, and T.I., among others. This partnership further expands Music Choice's video portfolio, with EMPIRE dominating the urban market share. Additionally, this marks the first time EMPIRE has made its entire video catalog- which also includes Reggae, Rock, Gospel, Latin, and Pop- available to any TV programmer.
The alliance kicks off with several exclusive releases, including a full-length mini-movie and music video from rising R&B star Rhyon, who created an entire visual movie comprised of connected music videos for her album releasing on October 6th, "Pretty Girl". Also coming up is a mini-movie by Dipset star Jim Jones along with new music videos from Snoop Dogg, Tyga, Rich Chigga and more.
Damon Williams, Senior Vice President, Programming Strategy and Partnerships at Music Choice stated: "Empire has been our go to for independent artist that move the needle like Rich Homie Quan, D.R.A.M., and Anderson .Paak. We are committed to giving independent artists a national platform for their music. This strategic partnership with EMPIRE will take it to the next level."
Ghazi Shami, Founder & CEO of EMPIRE, stated: "We have worked with Music Choice many times on one-off programs with our artists over the years so we understand the role they play in breaking our independent artists. We are excited about this strategic alliance which will give us an opportunity to premiere music videos and showcase our artists in Music Choice's artists programs."
Under the agreement, Music Choice and EMPIRE will collaborate on exclusive video premieres, artist programs and marketing campaigns. The content will be available via traditional set top boxes as well as on the go via Music Choice digital properties through TVE. The reciprocal agreement allows the partners to co-market each other's services to build a new audience for both brands. The deal also creates a range of new revenue opportunities on Music Choice for artists signed with EMPIRE as well as its record label EMPIRE Recordings. Additional EMPIRE programs and artists will be rolled out throughout the year.
Get Music Choice on all your devices, and find out more at app.musicchoice.com
About EMPIRE Distribution:
EMPIRE was founded in 2010 as an artist-friendly, progressive digital distribution company. After early success, and identifying future icons such as Kendrick Lamar, Sage The Gemini, and Rich Homie Quan, EMPIRE was quickly regarded as a tastemaker in the industry and throughout the past five years evolved into a full-fledged record label, distributor and publisher for independent musicians. With the company and roster growing at a breakneck pace, EMPIRE has effectively disrupted a stale business model by bringing its energy, expertise, and acumen to its artists and labels. Given its reputation, EMPIRE works with today's hottest talent from superstars such as T.I. and red-hot newcomers such as Anderson .Paak. While remaining 100% independent, EMPIRE has also partnered with Atlantic Records for a joint venture, home to breakout star D.R.A.M. and joined forces with Republic Records for the release of Sage The Gemini's Remember Me album.
About Music Choice:
Music Choice, the multi-platform video and music network, delivers its music programming to millions of consumers nationwide through their televisions, online and mobile devices. Music Choice programs dozens of uninterrupted music channels; produces originals that feature today's hottest established and emerging artists; offers thousands of music videos; and launched Music Choice Play, the music video, lifestyle and entertainment network for Millennials. For additional information log on to http://www.MusicChoice.com | Twitter: @MusicChoice | Facebook: http://www.facebook.com/MusicChoice