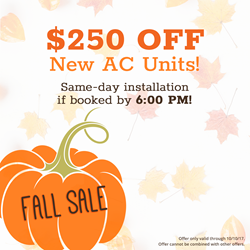 "Any Floridian knows that fall time is just an extension of summer, so All Year Cooling knows the AC needs to be running smoothly all year long." - Tommy Smith, president of All Year Cooling
Fort Lauderdale, FL (PRWEB) October 06, 2017
All Year Cooling, a local South Florida air conditioning installation and repair company is helping Florida residents cool their home or business with a deal on their new AC unit installations. All Year Cooling is running this sale now through October 10, 2017 and is also offering same-day installations if booked by 6 p.m.
All Year Cooling is looking to help residents and business owners with any air conditioning service whether they're in need of a new unit, maintenance, or duct services.
President of All Year Cooling, Tommy Smith, says, "Any Floridian knows that fall time is just an extension of summer, so All Year Cooling knows the AC needs to be running smoothly all year long."
With this latest coupon, All Year Cooling is offering $250 off new air conditioning units and same-day installations when customers book by 6 p.m. This offer cannot be combined with any other coupons.
Established in 1973, All Year Cooling has completed over 300,000 air conditioner installations in South Florida. Tommy Smith and his team's goal is to provide the consumer with the best overall value on new air conditioner installations, maintenance, and repairs. As a family-owned business, it's their mission to provide quality service and remain a trusted part of the South Florida community.
For more information on All Year Cooling, please visit their website or call 888-204-5554.