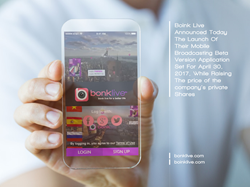 New York New York (PRWEB) October 05, 2017
Bonk Live streaming is attracting interest around the world in its pursuit to create a revolutionary social broadcasting application with unprecedented income revenue streams and unique, diverse content that has never before been introduced to a live streaming application.
Our company is certainly now on the radar of over 26 reputable tech companies in Silicon Valley who have written positive reviews on us as "the next big player in the live streaming market" and these reviews are widely available online.
Many have highlighted the ingenious advertising model and how Bonk may be a game-changer with broadcasters, viewers, investors, and advertisers all set to gain in a win/win scenario.
Co-Founder; Joe Bonica, recently said, "It's all about timing. every day we have our specialized team of executives sitting around a table brainstorming ways to improve content and lead by way of innovation and creativity using the best technology available. The key is introducing it to a readily available audience before the competition latches onto it. In fact, we have a big reveal coming that will impact the industry significantly".
That "Big Reveal" has now come to light, it is that industry veteran, Greg Gifford, has jumped at the opportunity to join the Bonk Live Management team as EVP of Corporate Development of US operations with a specific focus on "Subscriber Recruitment" with follow-on capital of 25 million dollars to move the Broadcasting application to number 1 worldwide. The twenty five million invested will represent 5% ownership in Bonklive or 5 million shares.
This information is sure to have both investors and major competition in the industry poised to take notice of what's in store for the new and upcoming Bonk Live fraternity. Why exactly? Because with over two decades of corporate finance and advisory experience. Greg currently leads a team of technical and financial professionals responsible for $2.3 billion in mergers and acquisitions and over $500 million in capital investment. Greg's career has focused on public and private transactions, mergers and acquisitions, and capital market executions in industries spanning Investment Tax Credits, Energy, Technology, Telecommunications, and New Media. He may just prove to be the key component required to propel Bonk Live to fulfill it's potential. President, John Lamb at Bonk Live said, "The focus has now shifted towards polishing our flagship application, installing the awaited new content via scaled updates and more importantly, hitting our next milestone of adding an additional 30 million users to our mobile app".
With a talent like Greg on board and a track record like his, this might only take 2-3 months. This means that in 2018, we will see Bonklive as a new challenger exploding onto the live streaming scene, although undoubtedly, many will view Bonk Live as an overnight success. In any case, it will most likely coincide with an impending IPO.
Bonk Live will now cement its position as a true contender to many household names in the live streaming industry, it will have more than enough money to compete with anyone with significant market share. The other notable aspect is that Bonk will also be able to implement its vision listed in previous press releases to unlock the technology required to create the world's first 3D Virtual Reality live streaming platform sure to impress millions of both youthful and mature social media users always looking for the next big WOW factor.
The developers at Bonk Live are working hard to deliver content and updates that will have Billions of social media users raving about these new features that really haven't existed in this way before on any social media application.
With many advertisers now using social media as a way to engage the youth, Bonk Live's unique model may well be the vehicle they need.
Imagically, Bonk Live's development arm has been leading the technical side of the Bonklive application while Greg Gifford will be bringing on an American management team with a contracted 30 million new users, in addition to working with investment bankers and underwriters to take Bonklive public.
This press release contains forward-looking information within the meaning of Section 27A of the Securities Act of the 1933 and Section 21E of the Securities Exchange Act of 1934 and is subject to the safe harbor created by those sections.