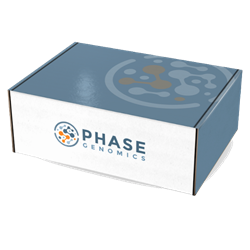 Using the ProxiMeta kit and our computational tools, researchers can now assemble numerous high-quality genomes from mixed samples without culturing, high-molecular-weight DNA extraction, or any a priori information
Seattle, WA (PRWEB) October 06, 2017
Phase Genomics, the industry leader in Hi-C-based genomic technologies, launched its ProxiMeta™ Hi-C metagenome deconvolution product, featuring the first commercially available Hi-C kit. Researchers can use the ProxiMeta Hi-C kit and accompanying cloud-based bioinformatics software to perform Hi-C metagenome deconvolution using their own facilities, supplementing the company's full-service ProxiMeta offering launched in May 2017. Additionally, a newly available paper demonstrates the technology's power to assemble over 250 genomes from a single human fecal sample.
"Using the ProxiMeta kit and our computational tools, researchers can now assemble numerous high-quality genomes from mixed samples without culturing, high-molecular-weight DNA extraction, or any a priori information," said Dr. Ivan Liachko, CEO of Phase Genomics. "The applications of this technology are broad and exciting, and we've shown that ProxiMeta can be used to discover many novel species, detect plasmid-host interactions, and identify strain-level genetic variation. We are even more excited to see all the discoveries that this technology will enable as it is adopted by the wider scientific community."
Microbiome samples are made up of many different microorganisms that must be sequenced together. A key challenge in metagenomics is determining which DNA sequences originated from which organism in the mix. ProxiMeta solves this problem using an enhanced version of the chromatin capture technique Hi-C, which measures the physical structure of microbial genomes while their cells are still intact.
This powerful innovation enables researchers to study individual microbial communities with unprecedented precision, opening the door to deeper, more rapid discoveries in fields like the microbiome, infectious disease, agriculture, and antibiotic resistance.
"Phase Genomics' ProxiMeta Hi-C solution makes innovative use of Illumina reads to conduct metagenomic deconvolution and extract more complete sequence information from mixed microbiome samples," said Gary Schroth, PhD, Vice President of Genomics Development and Distinguished Scientist for Illumina. "This technology promises to open many new metagenomic applications and we're excited to see it come to market."
ProxiMeta™ includes a kit for sample processing, cloud-based software for analysis, and full customer support. For more information, email your inquiry to info(at)phasegenomics(dot)com or visit their website at http://www.phasegenomics.com.