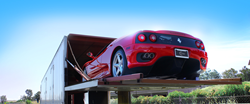 Above and Beyond Customer Service. Always.
Los Angeles, CA (PRWEB) October 09, 2017
Corsia Logistics has been working on their website constantly in order to make it easy to navigate and truly helpful to customers. Now with the new How It Works web library it becomes one of the most information rich websites in the industry.
The team behind Corsia knows how important it is to provide customers with fast and reliable services, but most of all with reliable information. In the new age of online information, and the Internet of Things, everything starts online. The idea behind every honest business should be to help customers, and the first step is to provide honest and reliable information.
Corsia Logistics has always been striving to help customers and this new website section will help all visitors navigate the car shipping process. About 80 percent of customers are first time shippers and they do not know how auto transport works. Corsia is truly proud to offer such a comprehensive educational library for customers to read. It is a well structured and easy to navigate web property containing descriptive guides about all car shipping processes.
This web section will answer the most important and frequently asked questions. It will guide customers through the process of finding, choosing and booking their car shipping service. They will be able to find information about cost to ship a car, loading personal items in the vehicle, transit times, car shipping insurance, shipping a non-running vehicle and much more. With time, the company will add even more guides.
Corsia Logistics provides realistic market prices, which are affordable to customers and fair to car carrier truck drivers. They ship cars nationwide and offer above and beyond customer service. Now with their How It Works section they make another step in providing the best service possible. From customer's first engagement with the company's website to the drop off of their vehicle, everything is in sync. It starts with transparency, communication, and discussion and it ends there. Corsia wants customers to learn how auto transport works.
Being informed is the only way to a better customer experience. This is what Corsia Logistics wants for their customers – smooth and worry free car shipping experience. With the developing of this new website section the team at Corsia proves they are striving to achieve a better customer experience. They invite all interested to visit their section and submit comments or questions.
ABOUT CORSIA LOGISTICS
Corsia Logistics is one of the highest rated car shipping companies in the US. The company has been slowly expanding to provide exceptional auto transport services nationwide. Corsia offers free vehicle shipping quotes, open and enclosed trailers and an intuitive and informative website. They have earned the trust of hundreds of companies and thousands of customers already. Visit their website https://www.corsia.us/ to learn all about auto transport or call (818) 850-5258.