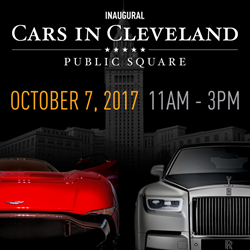 We knew people in Northeast Ohio loved their cars, but we didn't anticipate this level of interest and excitement.
CLEVELAND, Ohio (PRWEB) October 06, 2017
Public Square in Downtown Cleveland is just hours away from transforming into the center of exotic car world – at least for a day.
Tens of thousands of visitors and car lovers will flock to the center of Cleveland on Saturday, from 11 a.m. to 3 p.m., for the inaugural Bernie Moreno Companies' Cars in Cleveland event.
This display of amazing vehicles is open to the public and will feature live music, activities, food and drink -- and more than $30 million in jaw-dropping cars, including: 

Vehicles from LeBron James' private collection, including a Bentley and his customized Hummer.
Bernie Moreno's $2.5 million Aston Martin Vulcan (one of only two dozen in existence).
Rare vehicles from Western Reserve Historical Society's Crawford Collection.
Scores of other luxury models, including Lamborghini, Ferrari, Alfa Romeo, Lotus, Maserati, McLaren, Porsche, Rolls Royce, and many more
"The response to this event has been breathtaking," Moreno said. "We knew people in Northeast Ohio loved their cars, but we didn't anticipate this level of interest and excitement."
In an era when America seems to be growing more divided, exotic cars can prove that the opposite is really true, Moreno added.
"We all have more in common that we realize," he said. "A shared love of cars can bring people together, start conversations and lead to the realization that we are all more alike than different."
"The power of these stunning cars isn't all under the hood."
Although "Cars in Cleveland" is a complementary event, the public is encouraged to RSVP online at carsincle.com.
Charity Beneficiary: 
LeBron James Family Foundation
Sponsors:
AllianceBernstein
Marshall Goldman Motor Sales
WKYC Channel 3
Suburban Collision Centers
Sky Quest LLC
Empire Dealer Services  
Cleveland Auto Show
Force Marketing
Dealer Inspire
JACK Cleveland Casino
Medical Mutual 
Tenable Protective Services, Inc. 
Block-A-Chip 
107.3 The Wave - WNWV! 
Marriot Hotel Cleveland
The public is reminded that no drone-flying is allowed over Public Square.
What: Bernie Moreno Companies' inaugural Cars in Cleveland event.  When: Saturday, October 7, 2017, 11 a.m. to 3 p.m.  Where: Public Square, Downtown Cleveland.  Who: Everyone. Cars in Cleveland is open to the public.
For more information on the event or to set up an interview with Bernie Moreno, contact Ralph Stawicki, Director of Marketing, at 440-567-9144.
In 2005, Bernie Moreno purchased a small, underperforming Mercedes-Benz dealership on the west side of Cleveland, turning it into Mercedes-Benz of North Olmsted, the flagship dealership of his organization. After just one year, that dealership earned a coveted "Best of the Best" award from Mercedes-Benz and would go on to win the award for 10 consecutive years, something no other Mercedes-Benz dealer has ever done. In the meantime, Bernie Moreno Companies has become one of the fastest growing and most admired auto-dealership organizations in the country, earning awards for its growth, client service, community involvement and employee engagement.