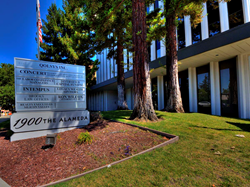 "We're excited to be able to offer this unprecedented combination of property and financial services to San Jose"
San Jose, California, (PRWEB) October 07, 2017
Bringing together world-class real estate services, mortgage banking, and wealth management service providers, leading firms Intempus, CMG Financial, and ARIA Wealth Management on October 26 will celebrate the launch of their unique partnership at the firms' central office location at 1900 The Alameda in San Jose.
This groundbreaking partnership of preeminent firms brings an unrivaled level of service and convenience to the San Jose market. It offers in a single, centralized location a comprehensive range of property management, mortgage brokerage, and investment services. At the October 26 celebration and open house, San Jose businesses and investors will have the opportunity to experience first-hand the groundbreaking possibilities of this first-of-its-kind partnership. A reception is planned at which San Jose Mayor Sam Liccardo will conduct a ribbon-cutting and executives of all three firms will be present to greet clients and potential clients as well as answer questions.
"We're excited to be able to offer this unprecedented combination of property and financial services to San Jose," said Eugene Korsunsky, President of Intempus. "Intempus, which offers property management, real estate, and construction services, has recently expanded to our new headquarters at 1900 The Alameda, allowing us to employ more staff, more technology resources, and more services, to meet the complete range of San Jose property owners' needs."
Intempus' San Jose headquarters is equipped with cutting-edge resources to streamline operations, and the company has greatly expanded its professional staff in order to meet the demands of the growing San Jose market, Korsunsky added.
"Every year since 2013, we've grown our property management portfolio by over 100 percent," said Michael Khesin, CEO of Intempus. "Our new partnership with CMG and ARIA will fulfill the needs of our growing client base who require additional services in the areas of financing and investment. Together, our firms will be able to help clients build profitability and fuel their further growth."
With their headquarters and offices at 1900 The Alameda, San Jose West Valley's premier office location, the three firms will offer optimum convenience for property owners and potential clients, presenting the services of three leading-edge companies in their respective spaces.
"CMG is thrilled to serve our community by adding these partners to our customer offerings," said CMG Branch Manager Kimberly Allen. CMG Financial is a well-capitalized, privately held mortgage-banking firm built on over twenty years of lending transparency and client service.
"At CMG, we are dedicated to building life-long relationships with clients and my referral partners. This partnership brings tremendous opportunity for customers to grow their businesses and for CMG to better serve the San Jose community with extraordinary loan programs and operational efficiency," Allen added.
"ARIA is extremely pleased to join with these firms as this reflects our collaborative approach to wealth management," said ARIA Chief Operating Officer Erik Shei. ARIA brings more than 70 years' combined industry experience from trained professionals specializing in wealth management, retirement plan consulting and administration, personalized investment management, and financial planning.
"Our approach is centered on understanding our clients and their goals, so adding this ability to partner with leading firms in these important spaces will allow us to deliver truly unmatched service to our clients," Shei added.
At the grand-opening celebration, existing clients and potential clients will have the opportunity to learn more about the innovative partnership among these leading firms and consult personally with representatives from each company at their new central San Jose location. Mayor Sam Liccardo will attend and officiate the ribbon cutting ceremony.
About Intempus
Intempus is one of the fastest growing property management companies in Santa Clara County. The company has doubled in size each year due to their dedication to professionalism and trustworthiness. Intempus offers a wide range of services for residential and commercial property owners, including property and HOA management services, unparalleled property marketing to help owners get the most out of their investment, and maintenance, so owners can rest easy knowing their investment will last. Intempus has also recently launched a construction division, Intempus Builders, and a real estate brokerage, Intempus Realty.
About CMG Financial
CMG Financial is a well-capitalized, privately held mortgage-banking firm built on over twenty years of lending transparency and client service to deliver the right loans for the right reasons in a way that exceeds all expectations. Founded in 1993, CMG Financial now currently operates in 50 states and the District of Columbia and holds federal agency lending approvals with HUD, VA, RHS, GNMA, FNMA, and FHLMC. CMG Financial contributes to the lending market with three distinct origination channels: Retail Lending, Correspondent Lending, and Wholesale. CMG Financial thrives on providing a personal experience while operating with the resources of a national firm. The company achieves extraordinary experiences through operational efficiency and support, product innovation, investment in technology, and in-house marketing. CMG Financial proudly partners with some of the top real estate agencies, financial planning and investment firms, and builders in the nation to help ensure their client's home purchase closes on-time, every time.
About ARIA Wealth Management
With more than 70 years of combined industry experience, our ensemble approach offers the benefit of a diversified group of trained and experienced financial professionals specializing in: Wealth Management, Retirement Plan Consulting and Administration, Personalized Investment Management, and Financial Planning. Our collaborative approach to wealth management is centered on understanding who you are, what you hope to achieve, and what keeps you up at night. We put our financial experience to work, sorting through these complexities and offering financial insights and strategies to bring harmony, confidence and clarity to your financial life. Experience what it's like when a dedicated team of specialized professionals work in harmony to accomplish one single objective—your financial success.
FOR NEWS MEDIA ONLY:
Accredited media representatives wishing to attend the October 26 event at 1900 The Alameda, please contact Courtney Treffkorn at 408-320-5509 or info(at)intempus.net.
Grand Opening reception starts at 2:30 pm, in suite 100 at 1900 The Alameda in San Jose. Please send interview requests to info(at)intempus.net