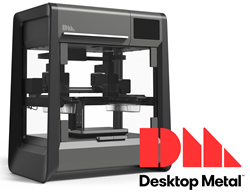 Our mission is to help customers do more with less
Cincinnati, Ohio (PRWEB) October 06, 2017
Technical Equipment will showcase the latest advancements in CNC metal cutting machinery from Makino and Tsugami and introduce metal 3D printing technology from its newest partner, Desktop Metal in booth 217 at the Advanced Manufacturing Technology Show (AMTS) October 18-19, 2017. AMTS will take place at the Dayton Convention Center in Dayton, Ohio and is expected to draw several thousand manufacturers from Ohio and surrounding areas.
In Technical Equipment's booth, Desktop Metal will deliver daily presentations about advancements in additive manufacturing, including an overview of their award winning, revolutionary metal 3D printing technology that is safe to use in an office environment.
Seating at the presentations will be limited; advance registration is required.
Contact Tom Nugen | (513) 874-0160 | tnugen(at)techequip(dot)com
Makino's Wire EDM, the U3 Heat with Hyper i control and twin flushing pumps, will be on display in booth 217 as will Makino's Sinker EDM, EDGE 3. Makino engineers will be available throughout the show to demonstrate equipment, discuss applications and answer any questions.
Tsugami's SS327-5AX will demonstrate simultaneous 5-axis surfacing and contouring. The BW209Z, which is capable of cutting with 3 tools simultaneously, will demonstrate pinch turning, pinch milling and super positioning. Technical Equipment engineers will be on site to discuss applications.
"Our mission is to help customers do more with less," Technical Equipment's President John Murphy said. "We're really looking forward to demonstrating how these machines can help manufacturers boost productivity and reduce costs."
Admission to AMTS is free for attendees.
Exhibits are open Wednesday, October 18, from 9 a.m. to 7 p.m. and Thursday, October 19, from 9 a.m. to 5 p.m. For more show details and registration, visit the http://www.daytonamts.com
Technical Equipment (http://www.techequip.com) is a division of Morris Group, Inc. The company is an exclusive distributor for Hwacheon, Makino, Tsugami, Hermle, Murata and many other products in Ohio, Indiana and Kentucky. In addition to new machine tools, Technical Equipment provides engineered solutions, replacement parts, service, preventive maintenance and more. Services also include financing, installation, training, service and disposal of retired machines.