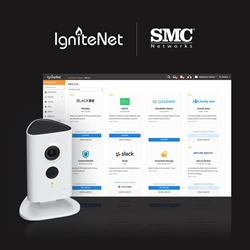 SMC Secure Watch will allow our partners to offer very simple and easy to use security solutions for all of their customers
(PRWEB) October 06, 2017
SMC offers a wide range of full HD (1080p) IP cameras suitable for indoor and outdoor video surveillance applications, and Secure Watch cameras are packed with all the essential features like 802.3af allowing to power them with PoE switches, integrated Wi-Fi for the places without cabling infrastructure, speakers, microphones and many more.
All cameras can be monitored directly with the Secure Watch application available for iOS and Android platforms. Users will enjoy simultaneous live monitoring of multiple locations at the same time, rapid notifications about events, 4 zone motion detection and many more essential features packed into a user-friendly application.
"We are always looking for value-add applications to add to our growing market place with an emphasis on solutions that operators can deploy with very little friction. We are excited to partner with SMC Secure Watch as we see rapid market growth of IP based video surveillance systems in the coming years. SMC Secure Watch will allow our partners to offer very simple and easy to use security solutions for all of their customers", said Harold Bledsoe, President of IgniteNet.
"SMC Networks is pleased to announce its availability of cloud-based video surveillance solutions to IgniteNet's channel partners. SMC Secure Watch is ideally suited for system integrators and service providers whose business model includes monthly recurring revenues from commercial and residential customers," said Alex Kim, CEO of SMC Networks, Inc.
About IgniteNet
Headquartered in Irvine, CA, IgniteNet is a wholly owned subsidiary of SMC Networks, Inc. IgniteNet has a proven track record of producing powerful, reliable, easy to deploy, and innovative cloud managed wireless solutions and the industry's lowest cost 60 GHz wireless technology through channel partners worldwide, focusing on Enterprises and Service Providers. For more information, please visit http://www.ignitenet.com.
About SMC Networks
With over 40 years of expertise in networking, SMC Networks is a global leader in providing cloud-based wireless networking, video surveillance, and IoT solutions to service providers and channel partners worldwide. SMC is fully committed to developing and manufacturing leading-edge, high-quality and cost-competitive products for enterprise and consumer markets.