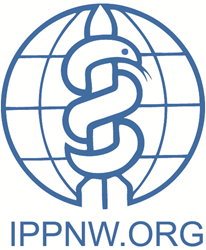 "This year's Nobel Peace Prize does more than recognize the Ban Treaty as a major step forward in nuclear disarmament," said IPPNW co-president Ira Helfand. "It reminds us that we remain hostage to what can only be considered suicide bombs."
Malden, MA (PRWEB) October 06, 2017
In honoring the International Campaign to Abolish Nuclear Weapons (ICAN) as this year's Nobel Peace Laureate, the Norwegian Nobel Committee has reaffirmed that prohibiting and eliminating nuclear weapons is the most urgent security priority of our time.
ICAN was launched in 2007 by International Physicians for the Prevention of Nuclear War, the 1985 Nobel Peace Laureate, and now comprises 468 civil society organizations and thousands of campaigners in 101 countries.
ICAN mounted an extraordinarily effective and diverse global campaign that helped secure the Treaty on the Prohibition of Nuclear Weapons, adopted by 122 UN member states on July 7, 2017. The landmark agreement declares nuclear weapons illegal because of their catastrophic consequences and based on the principles of international humanitarian law. The Treaty was achieved through the collective effort of civil society, international organizations, and non-nuclear-weapon states.
"The Hibakusha, who have borne constant witness to the humanitarian consequences of nuclear weapons since the US atomic bombings of Hiroshima and Nagasaki in 1945, played a pivotal role in ICAN's work to support the negotiations for the Ban Treaty," noted IPPNW co-president and ICAN's founding co-chair Tilman Ruff. "Their voices—and those of the victims of nuclear testing—can be heard clearly in the Treaty's preamble, which cites 'the unacceptable suffering of and harm caused to the victims of the use of nuclear weapons.'"
"This year's Nobel Peace Prize does more than recognize the Ban Treaty as a major step forward in nuclear disarmament," said IPPNW co-president Ira Helfand. "It reminds us that we remain hostage to what can only be considered suicide bombs. Now that nuclear weapons have been stigmatized and prohibited, it's up to all of us to increase the legal, moral and political pressure on the nuclear-armed and nuclear-dependent states. Our task will not be finished until the last nuclear weapon has been eliminated from the last arsenal on Earth."