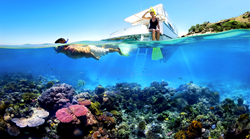 it's an ideal partnership for providing a luxurious, carefree vacation
San Ignacio, Belize (PRWEB) October 10, 2017
The Lodge at Chaa Creek recently joined with Belize Sailing Vacations to offer Belize's most luxurious jungle lodge and Caribbean sailing vacation package, according to the popular Belizean eco-resort's general manager.
Bryony Fleming Bradley said the new "Magnificent Villas and Magical Islands" all-inclusive vacation package sees Belize's premier eco-resort join one of the country's foremost yacht charter companies to offer travellers "a truly unique experience that combines adventure with a level of luxury never before seen in Belize."
With a choice of a three, four, or five nights stay in the luxurious new Ix Chel Rainforest Villas at Chaa Creek and a four nights Caribbean sailing holiday aboard a fully serviced 50 ft catamaran, the all-inclusive Belize vacation package includes everything needed for a complete jungle and sailing vacation.
And, Ms Bradley added, Chaa Creek's extensive infrastructure and the close relationship between the two companies make all that luxury surprisingly affordable.
"For many years we've been offering our popular 'Rainforest to Reef' Belize vacation packages to give visitors a chance to see the best of Belize's two worlds – the vast, pristine rainforests and the beautiful Caribbean coast.
"And now, with the opening of our luxurious Ix Chel Rainforest Villas, we saw an opportunity to join our friends at Belize Sailing Vacations and take things to the next level," she explained.
The "Magnificent Villas and Magical Islands" all-inclusive Belize vacation package includes luxurious accommodations with a personal butler, gourmet dining and all activities, equipment and transfers.
While at Chaa Creek, guests stay at the new Ix Chel Rainforest Villas, nestled atop a beautifully landscaped ridge overlooking the jungle and Macal River, fronted with floor to ceiling glass doors and walls looking out onto private verandas with personal plunge pools, Jacuzzis, and alfresco showers. Set above the rainforest, the villas afford both privacy and stunning views. A personal butler ensures guests are well looked after, Ms Bradley said.
In addition to luxury accommodation, guests enjoy a full meal plan, including a private candlelit dinner, with massages at the internationally recognised Hilltop Spa, and activities that include guided visits to the onsite Belize natural History museum, Butterfly Farm, Maya Medicinal Plant Trail, morning birding, a sunset canoe excursion, swimming and lounging around the infinity pool and complete access to all amenities and the miles of jungle trails crisscrossing Chaa Creek's 400-acre private nature reserve.
From Chaa Creek guests are transported to Belize Sailing Vacations' 50 ft cruising catamaran with a crew of captain, first mate and chef. With meal preferences and other requirements worked out in advance, the cat will be provisioned and ready to sail out to Belize's famously unspoiled cayes and the Mesoamerican, or Great Maya, Barrier Reef.
Ms Bradley said the family-owned Belize Sailing Vacations has the experience, local knowledge and reputation to ensure that guests, whether seasoned sailors or novices, can be guaranteed a safe, comfortable and relaxing cruise through some of the world's most spectacular sailing grounds.
"We're both family owned, focussed on quality and service, and both share a commitment towards sustainable eco-tourism, so it's an ideal partnership for providing a luxurious, carefree vacation.
"The catamaran, large and well equipped, is the perfect vessel for exploring Belize's Caribbean waters in comfort and safety. The shallow draft allows it to get into beautiful, unspoiled anchorages, swimming and snorkelling spots, and a catamaran's inherent stability combined with spacious air-conditioned cabins with private baths and showers guarantees a comfortable experience for everyone.
"An onboard chef working with high quality produce and the freshest seafood possible will supply delicious meals and snacks, an open ship's bar keeps everyone refreshed, and the fishing, kayaking, paddle boarding, snorkelling and other aquatic activities makes indulging guilt-free." Ms Bradley said.
Belize's vast rainforests filled with exotic wildlife and ancient Maya temples and monuments, combined with a Caribbean coast sheltered by the world's second largest barrier reef and home to the planet's largest atolls and nearly a hundred picturesque tropical islands present nature at her finest, and exquisite dining, attentive yet unobtrusive service and five-star amenities provide an unparalleled vacation experience, Ms Bradley said.
"At Chaa Creek we worked very closely with Belize Sailing Vacations to create an all-inclusive Belize vacation package that sets new standards for luxury, and we're quite happy with the result," she said.
"And considering what we're offering, we're certain our guests will be, too," Ms Bradley added.
The Lodge at Chaa Creek is a multi-award winning eco resort set within a 400-acre private nature reserve along the banks of the Macal River in Belize. It was recognised by National Geographic with first place honours at the 2017 World Legacy Awards held in Berlin.
ENDS