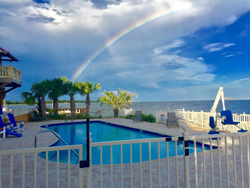 "With Google's new policy and approach, we are hopeful that this will slow down fraudulent companies that overshadowed quality drug treatment centers in the search engine world. Barnett Gilmer CEO
Gulf Breeze, FL (PRWEB) October 10, 2017
Google recently made an incredibly important decision that we are confident will help protect those who are at a vulnerable time in their life on the search for a reputable drug and alcohol rehabilitation facility.
Here's what was happening:
Before Google made this decision, anyone could pay to run an ad at the top of your search results for essentially anything related to alcohol and drug rehabilitation. Illegitimate "facilities," such as "referral" services that are being paid a commission for leads were paying to be linked to specific keywords such as: drug rehabilitation center, alcohol rehabilitation facility, heroin detoxification, drug treatment, alcohol treatment, etc. These referral services would earn a commission by luring the person seeking treatment to a particular drug or alcohol recovery center that was paying the "finder's fee." Many people would also be lured into facilities that might advertise as a "holistic drug rehab" or a quality "non-12 step drug rehab" but were really a facility only interested in finding ways to bill insurance companies for services they didn't provide.
If all drug and alcohol treatment centers would act legitimately, then there wouldn't be a problem. Unfortunately, scammers buying these keywords effectively preyed on vulnerable people who were attempting to save themselves or their loved ones.
"With Google's new policy and approach, we are hopeful that this will slow down fraudulent companies that overshadowed quality drug treatment centers in the search engine world. We are grateful for Google's response to concerns brought by patient advocate groups. Google's willingness to negatively impact their own revenue to protect the vulnerable speaks volumes about the pressing need to eliminate unscrupulous drug treatment providers." says Barnett Gilmer, CEO of Gulf Breeze Recovery.
If you would like to read more on Google's Decision: https://goo.gl/tAK61x
"It's our hope that the process of finding a reliable, quality rehabilitation facility will be safe and trustworthy. We hope that improvements will continue to be made to protect the public. We think that Google's choice to stop deceptive ads is a step in a more transparent and sustainable direction." says Kat Allen, Admission Director at Gulf Breeze Recovery.
About Gulf Breeze Recovery: Gulf Breeze Recovery is changing the future of addiction treatment. Gulf Breeze Recovery's THRIVE® program is designed for those who are looking for a drug and alcohol treatment program that may produce a different and positive result. This non-12 step program allows you to drive beyond your addictions and promotes a new outlook on life. Gulf Breeze Recovery's THRIVE® program is designed for those who struggle with chronic relapse. Gulf Breeze Recovery is now accepting select insurance policies as a full or partial payment for all program costs. The exciting news is that people can now attend one of the most highly regarded drug treatment centers in the country at little to no cost to them. For more information about our program or to speak with an Admissions Counselor, please call 855-973-3551.