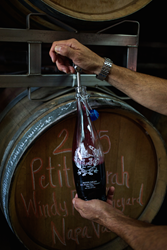 We...are honored that a sommelier judging panel appraised the quality of our wines submitted in growlers so highly
San Diego, Calif. (PRWEB) October 24, 2017
LJ Crafted Wines, an award-winning urban winery in Southern California, announced today that they received multiple awards at the Sommelier Challenge, an International Wine and Spirits Competition which took place September 23-24 in San Diego, Ca. LJ Crafted Wines received two platinum and two gold awards, with three of these wines being submitted in wine growlers / re-usable bottles. LJ Crafted Wines was the only winery to submit wines to the competition in wine growlers.
LJ Crafted Wines announced earlier this year that they have stopped bottling with conventional single-use bottles to focus their entire business on their environmentally-friendly growler program. Their patent-pending technology, aptly called the "Wine Steward," is a delivery device which allows wine to be served directly from the barrel in which it is aging, growler after growler, glass after glass, while maintaining the integrity of the remaining contents of the barrel.
"We are delighted that our customers embrace our growler program, and are honored that a sommelier judging panel appraised the quality of our wines submitted in growlers so highly," said Lowell Jooste, owner of LJ Crafted Wines. "These awards affirm that our wines are top quality, and confirm that our innovative way of offering wines in growlers is successful."
Grapes for wines are sourced from growers in Napa and Sonoma, vinified by winemaker Alison Doran-Green in Napa and shipped in barrels to LJ Crafted Wines in La Jolla. In addition, as a licensed urban winery, some wine must be made on the premises. Last year the owners, staff and interested customers made a barrel of Petite Sirah, which was awarded gold in the competition.
The details of the wines awarded:

LJ Crafted Wines Platinum 2013 Pinot Noir Russian River Valley 96pts and BEST IN SHOW PINOT NOIR. In limited supply, on line and in the tasting room, $39.00*
LJ Crafted Wines Platinum 2015 Chardonnay Patient Terrier Vineyard Russian River Valley 94pts, $30.00* (GROWLER)
LJ Crafted Wines Gold 2015 Pinot Noir Patient Terrier Vineyard Russian River Valley 92pts, $37.00* (GROWLER)
**LJ Crafted Wines Gold 2016 Bird Rock Petite Sirah, Dry Creek, Sonoma 91pts, $45.00* (GROWLER). Available only to club members early November, 2017
*Wine club members receive 20% off all wines
**Made on site in San Diego, Ca.
For more information about LJ Crafted Wines, please visit: http://www.ljcraftedwines.com.
About LJ Crafted Wines
LJ Crafted Wines is a family owned and operated award-winning urban winery located in the beautiful coastal town of Bird Rock in La Jolla, California. Owners Lowell and Anne Jooste crafted the concepts for their business from their experience of managing family-owned Klein Constantia and Anwilka vineyards, which they shared with two eminent French winemakers. Lowell is fourth generation in a family dedicated to the wine business and developed deep roots in the international wine scene during his 20+ year career in South Africa. LJ Crafted Wines has created a one-of-a-kind experience in wine. Limited release wines are made in Yountville, Napa from grapes bought from premiere vineyards in Napa & Sonoma, transported in their original barrels to the tasting room and served to customers directly via Lowell's innovative patent pending apparatus. Aptly named the "Wine Steward," it allows wine to be served from the barrel in which it is aging, while maintaining the integrity of the remaining wine. This novel system combines perfectly with the use of the refillable, eco-friendly growler, allowing customers to select re-fills from a dozen barrels of wine across a wide taste spectrum. LJ Crafted Wines opened in 2016 and has won multiple awards for their wines judged from growlers. The custom designed tasting room is located two blocks from the ocean, has indoor and outdoor seating, and offers small seasonal gourmet plates and cheese boards. Well-informed wine associates lead guests through the regularly changing wine list. Club memberships are available. For more information, please visit http://www.ljcraftedwines.com
###