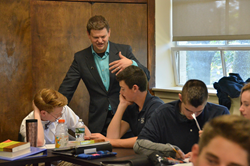 Haverhill, MA (PRWEB) October 10, 2017
Bradford Christian Academy is one of approximately 1,000 schools worldwide—and one of only 36 in Massachusetts—to implement AP Capstone, an innovative diploma program that allows students to develop the skills that matter most for college success: research, collaboration, and communication. The program consists of two courses taken in sequence: AP Seminar and AP Research. Developed in direct response to feedback from higher education faculty and college admission officers, AP Capstone complements the in-depth, subject-specific study of other Advanced Placement courses and exams. Students graduating with this diploma, students also earn credit for 6 college-level courses, reducing the burden on both the cost of college and coursework.
Bradford Christian Academy implemented the AP Seminar in the fall of 2017.
"BCA is very excited to be accepted into the AP Capstone Program," says Loren Stevens, Dean of the Upper School. She adds: "The Capstone Program unites the rigor of discipline specific AP classes with the intellectual creativity and breadth of the Seminar and Research classes to give our students excellent critical thinking abilities and effective presentation, researching, and writing skills.  In addition to the strong college preparatory and honors programs offered at BCA, we are pleased that our students now have the opportunity to graduate with the AP Diploma, one of the most well-respected distinctions in academia."
The AP Seminar course, typically taken in 10th or 11th grade, equips students with the ability to look at real-world issues from multiple perspectives. Through a variety of materials—articles to research studies to foundational and philosophical texts—students tackle complex questions; understand and evaluate opposing viewpoints; interpret and synthesize information; and construct, communicate, and defend evidence-based arguments. Further, teachers have the flexibility to choose subject content based on student interests, whether local, regional, national, or global. By tapping into students' personal interests, Bradford Christian Academy's AP Capstone Program gives students from a wide range of backgrounds an entry point into stimulating coursework more than ever before. Graduating with this diploma, students would also earn academic credit for up to six college-level courses, reducing the burden on the cost of college and coursework.
"We are proud to offer AP Capstone, which enables students and teachers to focus on topics of their choice in great depth," said Trevor Packer, senior vice president for AP and instruction at the College Board. He adds, "This provides terrific opportunities for students to develop the ability to write and present their work effectively, individually, and in groups—the very skills college professors want their students to possess."
By responding to and partnering with the higher education community, the College Board developed AP Capstone so students can practice skills that will serve them well in college and career. Because the program is a result of feedback from education professionals, it is not surprising that several colleges and universities have confirmed their support of the program.
"Colleges and universities kept telling the College Board that its AP program needed to focus more on getting students to think critically, both in their analysis of ideas and their use of research methods," adds Alexander Burgess, BCA Humanities Department Chair and AP Capstone faculty. "In response, the College Board modified most of its existing AP's and created two new AP Capstone courses, AP Seminar and AP Research. Only about 1,000 high schools worldwide, and fewer than 40 in Massachusetts, offer this innovative and challenging program. It's exciting and extraordinary that Bradford Christian Academy is privileged to be part of such a select group, but what's most satisfying is that our BCA students now have this opportunity to be even better prepared for college."
About:
Bradford Christian Academy
Bradford Christian Academy is a private, co-educational, college-preparatory elementary, middle and high school serving students in grades 1-12. With campuses in Bradford and Haverhill, MA, Bradford Christian Academy enrolls students from over 40 communities throughout the region as well as countries throughout the world. For more information, please visit http://www.bradfordchristianacademy.org.