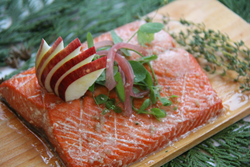 "I am excited to meet other people from around the country and share food," - Chef Nelson
Seattle, WA (PRWEB) October 11, 2017
Brown Paper Tickets' Food, Farm and Beverage Specialist Chef Patrick Nelson will be headed to St. Louis on October 28-29 to represent Washington State in the state-based food showcase. Fifty chefs will present a dish symbolizing their state at the event.
Chef Nelson will present cedar planked sockeye salmon with an apple cider/honey glaze, pea shoots, and tayberry mead pickled Walla Walla onions. Many of these ingredients are directly sourced from Washington – including the apples, honey, and pea shoots directly from Chef Nelson's Crowsfeet Farm, in Everett, WA.
"I am excited to meet other people from around the country and share food," Chef Nelson said about Flavored Nation."I think it's going to be fun and educational for everyone."
When he's not assisting event organizers with their food events at Brown Paper Tickets, Chef Nelson owns and manages his own farm, as well as teaches workshops focused on creating a Suitcase Kitchen. These workshops show touring musicians, pop-up chefs and any other interested parties how to pack a full kitchen into a suitcase for on-the-go cooking. This will be Chef Nelson's first time serving at Flavored Nation.
Flavored Nation hearkens back to the 1904 World's Fair to bring chefs from around the country back to St. Louis. They are determined to find out what everyone is truly eating in every corner of the country. The event is also designed to help fight local hunger by donating $5 from every ticket purchased to the St. Louis Area Foodbank.
Tickets begin at $45. Find more information at http://www.flavorednation.com.
About Patrick Nelson
As Brown Paper Tickets' Food and Beverage Specialist, Chef Patrick is on a mission. He has traveled the country helping restaurateurs and chefs set up events. He partners with community centers and teaches cooking classes and how to put on cooking classes. Filmed and launched a video interview series featuring farmers, brewers, specialty food purveyors, activists and food enthusiasts everywhere. For his next big project, he'll take his Suitcase Kitchen around the country to show travelers how to have home-cooked deliciousness on the road.
About Brown Paper Tickets
Brown Paper Tickets is an online event service company with social responsibility at its core. They offer 24 hours, seven days a week support, and donate part of their revenue each month to charity and non-profits. The company helps people in 68 countries sell tickets, connect with fans, grow capacity for causes, and strengthen communities through live events.