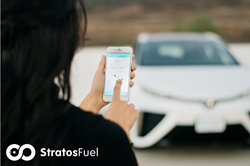 San Bernardino, CA (PRWEB) October 11, 2017
StratosFuel, Inc received a notice of proposed award from the California Energy Commission for a $684,421 grant to launch a Fuel Cell Electric Vehicle (FCEV) car sharing service. The proposed award will go towards purchasing 15 FCEV's that will be deployed in East-Central Southern California. The award comes after the California Energy Commission released a Grant Solicitation entitled "Innovative Service Mobility Demonstrations with Zero-Emission Vehicles" on March 9th, 2017. The grant solicitation made available $3.0 million, in an effort to fund up to four innovative electric vehicle mobility service projects in four specific California Regions.
The car-sharing fleet of 15 FCEV's will increase zero-emission ridership in disadvantaged communities, and increase throughput at public funded hydrogen refueling stations (HRS). To begin, the cars will be deployed near the Ontario, and Riverside hydrogen stations. The fleet will consume 100% renewable hydrogen, furthering StratosFuel's renewable hydrogen initiative and support their Zero Impact Production (ZIP) Facility. As stated by Jose Magana, COO of StratosFuel: "Having this fleet will be a great opportunity to increase the utilization of our Zero Impact Production (ZIP) facility, and to further the use of our cost-competitive renewable hydrogen furthering our goal of making hydrogen an everyday fuel."
StratosFuel will begin sharing cars under the brand name StratosShare. Riders will be able to rent and share vehicles based on location, which can conveniently be booked through a smartphone application. StratosShare will be competitively priced and include fuel, as well as insurance into the rental fee. Riders will have the option to either rent a vehicle by the hour or day. Providing a more flexible shared mobility option. It is anticipated, StratosShare will be provided valuable information from the daily operations, which can be used to develop a more comprehensive hydrogen infrastructure.
Unlike battery electric vehicles (BEV), hydrogen electric vehicles can be refueled in less than 5-minutes, and travel upwards of 300 miles – making them ideal for most trips. FCEV's provide riders with an experience similar to gasoline vehicles and offer a zero compromise solution for people who need transportation. Jonathan Palacios-Avila, Chief Executive Officer of StratosFuel, Inc. commented: "We want to provide a zero-emission vehicle alternative to the shared mobility sector and do so with convenience. Sharing a FCEV is a great opportunity for drivers to understand the simplicity of driving and refueling an electric vehicle in minutes."
StratosFuel plans to expand its FCEV fleet to other regions in California, as well as add more vehicles to the fleet. The Stratos team is currently speaking with cities, and other station developers to identify future deployment locations.
About StratosFuel:
StratosFuel, Inc (http://www.stratosfuel.com) is a Southern California based company that is a leading developer of hydrogen fueling stations, renewable production facilities, and station user interface solutions. The company is committed to facilitating technology that furthers the use of renewable hydrogen from point of production to retail.
Contact: Jose Magana
StratosFuel Inc.
email: admin(at)stratosfuel(dot)com
Phone: (909) 317-0519
Fax: (888) 371-8488
2601 N. Del Rosa Ave. #200
San Bernardino, CA 92404
http://www.stratosfuel.com