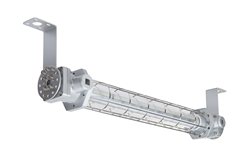 This low profile explosion proof light provides reliable, durable and safe power to smaller hazardous location spaces.
Kemp, TX (PRWEB) October 09, 2017
Industrial lighting leader, Larson Electronics LLC, has announced a new Low-Profile Explosion Proof Light fixture that provides users with powerful, energy efficient illumination. This LED lamp has a compact design, terminal strips for wiring, and T5 temperature rating with paint spray booth, ATEX and IECEx certifications, making it ideal for paint booths, oil rigs, offshore applications, petrochemical, manufacturing, chemical storage and more.
The EPL-LP-24-LED-480V low profile explosion proof light is class I divisions 1 & 2, class II divisions 1 & 2 rated and provides 6,760 lumens of high quality light drawing just 52 watts. This integrated linear LED uses special positioned boards within the fixture to provide wide area light without sacrificing quality or output. This LED produces a brilliant 6,760 lumen beam with 100º horizontal and 140º vertical spreads, and has a standard 5000K color temperature to produce colors and details more accurately than traditional luminaries. This light can operate on 480V, 50/60Hz current without any modifications and includes a driver that automatically monitors and adjusts input levels to protect against dangerous spikes and drops. Additionally, the EPL-LP-24-LED-480V comes equipped with terminal strips for wiring.
This lightweight low-profile explosion proof LED is compact, measuring just 5 inches in width, great for small spaces. This LED light is built with powder coated cast aluminum, and is IP67 rated, dust-proof, and protected against high pressure jets and temporary submersion, as well as resistant to vibration and impacts. A special heat dissipating design paired with LED technology helps this unit achieve a 60,000 hour rated lifespan and 80% lumen retention. The EPL-LP-24-LED-480V is offered with suspension pendant mounting, chain hang mounting or surface mounting options.
"This low profile explosion proof light provides reliable, durable and safe power to smaller hazardous location spaces," said Rob Bresnahan, CEO of Larson Electronics LLC. "This fixture produces twice the light output while taking up less than half the surface area of other larger models."
About Larson Electronics LLC: Larson Electronics LLC is a manufacturer of industrial lighting equipment and accessories. The company offers an extensive catalog of industry-grade lighting and power distribution products for the following sectors: manufacturing, construction, food processing, oil and gas, military, marine and automobile. Customers can benefit from the company's hands-on, customized approach to lighting solutions. Larson Electronics provides expedited service for quotes, customer support and shipments.
High Resolution Image 1-EPL-LP-24-LED-480V
High Resolution Image 2-EPL-LP-24-LED-480V
High Resolution Image 3-EPL-LP-24-LED-480V
High Resolution Image 4-EPL-LP-24-LED-480V
High Resolution Image 5-EPL-LP-24-LED-480V
Product Cut Spec Sheet-EPL-LP-24-LED-480V