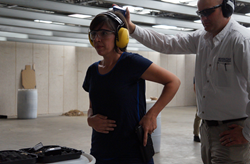 Defense Is Personal
Frederick, MD (PRWEB) October 10, 2017
Heritage Training and Shooting Center will be hosting Action Shooting International Events at their premier facility in Frederick, MD. Action Shooting International (ASI) is a "move and shoot" league that is designed for new pistol shooters as well as concealed carry permit holders. These matches will be held every other Wednesday at 6:30pm starting October 18.
This is the first time Heritage Training and Shooting Center will be holding a shooting league that allows both movement and holster drawing. "One can benefit from this type of shooting in many ways," said Jonathon McKee, Heritage Training Instructor, "it will allow participants to see where they have room for improvement outside of static shooting as well as push their comfort zone."
The purpose of this is to provide an opportunity for newer shooters to get a more relaxed glimpse into what action shooting sports are like without the high intensity that comes with more competitive matches. Heritage's goal is to create a space where participants can feel safe and comfortable while having fun with shooting.
Participants will shoot a series of four simple, self-defense oriented shooting courses. These courses focus on firearm handling rather than athleticism. Participants will be walking between shooting positions as well as navigating tables, chairs, and other obstacles.
Holster drawing is allowed and encouraged, however those interested must take the Holster Draw Exercise prior to the matches at 5:30 pm. If a participant does not own a holster or does not feel comfortable, he/she may start the shooting course from a table, surface or hand.
Participants must have a "safe" revolver or semi-automatic handgun chambered in .380, .38, 9mm, .40 or .45 and at least 100 rounds of ammo.
McKee said "ASI presents the opportunity for our patrons to employ the skills we have talked about in our training courses and lets participants experience shooting in a new way."
Registration is available on Practiscore. More information can be found on Heritage's website.
About Heritage Training and Shooting Center:
Heritage Training and Shooting Center is located at 4537 Metropolitan Court in Frederick, Maryland and is open from 9am to 9pm Monday through Friday. With state-of-the art shooting ranges, technologically advanced classrooms, TI Simulator, a firearms retail store, and over 140 rental firearms. Heritage has everything needed to meet your personal protection goals.
For more information, visit their website: http://www.heritagetrainingcenter.com or call 240-341-4006 – S. Gordon, Press Contact.
"Defense is Personal"