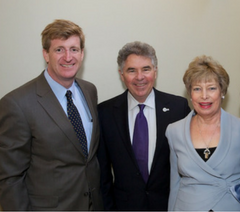 Seattle, WA (PRWEB) October 09, 2017
More than 60 million Americans suffer from brain illness. Another 2.8 million people in this country, from children to the elderly, suffer traumatic brain injury (concussion) each year.
"What we are realizing is that brain injury and brain illness are more similar than they are different, and the comorbidity is profound. As a combined organization, One Mind is well-positioned to leverage a shift in the brain research ecosystem to one of collaboration and data-sharing, with the ultimate goal being the expedited delivery of better diagnostics and treatments for all patients," said retired Army General Peter Chiarelli, who will continue to lead the combined One Mind organization as CEO. Chiarelli is known for his advocacy for veterans suffering from the invisible wounds of war. As vice chief of staff for the U.S. Army, Chiarelli led the military's efforts to reduce service member suicide.
"With a history of more than 23 years in brain health research, our two organizations have built an impressive track record of accomplishments. By combining One Mind Institute and One Mind, we become more efficient with our resources, improve our focus and eliminate any confusion in our growing base of generous supporters. Our management team and Board are fully committed to pursue our newly confirmed vision and mission," said Garen Staglin, Chairman and Co-Founder of One Mind.
As a consolidated organization, One Mind will focus its efforts and resources to support brain research programs that represent collaboration among major academic institutions in the United States and abroad, and those that practice open science principles so that discoveries in one area of brain research will inform others. Currently, One Mind is working to support and accelerate two large-scale studies in traumatic brain injury and post-traumatic stress. Plans are also underway to develop a strategy for psychosis using the successful "team science" approach. One Mind will continue to offer the prestigious Rising Star Awards previously facilitated through the One Mind Institute. The awards provide promising young investigators with $250,000 in seed funding for novel clinical and translational neuroscience research.
"One Mind and One Mind Institute have always sought to change the way the brain is studied and the way we talk about brain injury and illness—focusing not on individual diseases, but on the organ as a whole. As an organization, we advocate for 'brain health,' which not only helps to reduce stigma, but also reflects our goal to unite the entire neuroscience research community," said Patrick J. Kennedy, co-founder and board director of One Mind. "With new understanding of the brain and how it works, we hope that one day World Mental Health Day will be renamed World Brain Health Day, and will encompass all illness and injury of the brain."
Want to learn more about One Mind? Watch the newly released One Mind promo video.
###
CONTACT:
Garett Slettebak
One Mind Communications Director
O: 206.946.1768 / C: 206.465-7761
garett.slettebak@onemind.org
About One Mind
One Mind is an independent, 501(c)(3) non-profit organization dedicated to benefiting all affected by brain illness and injury. One Mind's mission is to radically accelerate cures for all brain illnesses and injuries by funding and fostering paradigm-shifting scientific collaborations and initiatives. One Mind believes in open science principles and creates global public-private partnerships between government, corporate, scientific, and philanthropic communities. Visit us at http://www.onemind.org or follow us via Twitter and/or Facebook.