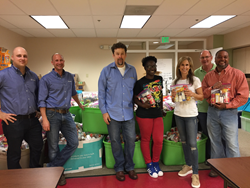 Lynne Khan is an everyday hero. We are just happy to be a part of the incredible work she and the Baltimore Hunger Project are doing for the children of our City
Baltimore, Maryland (PRWEB) October 11, 2017
As part of the Baltimore Ravens All Community Team, D'Amore Personal Injury Law recently announced a partnership with the Baltimore Hunger Project. "We were asked to choose a charitable organization as our community partner by the Ravens' ACT. When I heard about the Baltimore Hunger Project, and what its founder, Lynne Khan was doing for the children of Baltimore, it was an easy decision," said Paul D'Amore, managing member of D'Amore Personal Injury Law.
72,000 of Baltimore City's School children are considered "food insecure". The USDA defines food insecurity as meaning consistent access to adequate food is limited by a lack of money and other resources at times during the year. For many families, feeding their children is a financial balancing act. Sometimes, the top priority is paying the mortgage, rent, utilities and other bills, leaving the children unsure of food availability when they are not in school. That's where Baltimore Hunger Project comes in. By discretely tucking a weekend's worth of food into a child's backpack on Friday, they ensure otherwise hungry children are nourished and ready for school on Monday.
"Research has shown that if a child goes hungry over the weekend his/her brain will not be prepared to learn and perform school work until Thursday of the following week," explained Ms. Kahn. "That's not okay. Eventually, these kids will fall further and further behind. Not because they aren't smart or willing to work hard. But, simply because they are hungry. We can help fix that."
As part of its commitment to the BHP, D'Amore Personal Law pledged to fund all of the meals for 25 children at Hawthorne Elementary School for the entire year. Additionally, DPIL will provide volunteers to help pack meals for all 350 children being served by the BHP this year. Mr. D'Amore summed up the firm's new partnership stating, "Lynne Khan is an everyday hero. We are just happy to be a part of the incredible work she and the Baltimore Hunger Project are doing for the children of our City".