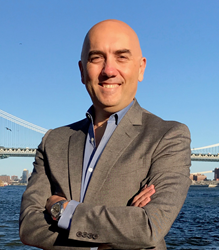 For the last 20 years I have worked across the breadth of financial services companies; driving technology and process change to increase company growth and value at both small start-ups and global multinationals. I am very excited to be joining the Appnovation team"
Vancouver, B.C. (PRWEB) October 17, 2017
As Appnovation expands its presence in the digital solutions space, the company is continuing to recruit people equipped to further accelerate this. The latest addition to the team is Xander LeRoy, a former Global Head of Operations at AIG, who has been brought on as the new Head of Financial Services.
Working within the Technology Enabled Services (TES) team, as a critical part of Appnovation's overall expansion into the digital consulting space, Mr. LeRoy's hire signals a more targeted focus on attracting new, and growing current clients in the Financial Services sector.
Having already enjoyed some early wins in the financial services industry in Canada, Hong Kong, the UK and US, Mr. LeRoy has been appointed to leverage these initial wins, whilst simultaneously further expanding and deepening Appnovation's global presence in the financial services sector.
Within his role in TES, Mr. LeRoy will be working with both the Sales and Delivery teams to accelerate the projects for existing clients, as well as create the plan for approaching new prospective clients.
As Mr. LeRoy himself explains, he is delighted to be bringing his wealth of experience to the table, and joining Appnovation's senior management team:
"For the last 20 years I have worked across the breadth of financial services companies, from running development and architecture at a tiny start-up, to senior Operations Officer roles at a Fortune 100. I am very excited to be joining the Appnovation team and am looking forward to bringing my strategic and finserv skills and experience to complement what the company already offers."
Based out of New York City, Mr. LeRoy is a strong addition to Appnovation's constantly evolving team, especially in terms of the growth of Appnovation's burgeoning digital solutions. consulting, and services offerings.
Arnold Leung, Appnovation Founder and CEO, is equally excited about the appointment of Mr. LeRoy, and sees it as the next step forward for both financial services client list, and the growing digital solutions side of the business.
"Financial Services is an industry which is undergoing massive digital transformation. Appnovation is investing heavily in digital solutions for the financial services industry and we are excited to have Xander lead our solutions group in this sector."
All in all, the appointment of Mr. LeRoy not only signals Appnovation's commitment to becoming more dominant in the financial services client arena, it also highlights their intention to expand their already burgeoning digital solutions portfolio.
About Appnovation
Appnovation is a global Digital Solutions and Managed Services provider, delivering strategy, application development and enterprise integration on leading open technologies. Appnovation's in-house experts strategize, build, and deploy high-performing, secure digital experiences across many industries, while also offering a wide range of creative capabilities, with 24/7 support and maintenance.
The firm boasts an impressive, cross-industry client roster ranging from Start-Ups to Fortune 500, government entities, nonprofit organizations and beyond. Since its inception in 2007, Appnovation has worked with hundreds of clients, delivering thousands of projects, achieving international recognition for development, innovations, and business success.
Open Digital Delivered. Visit appnovation.com today.