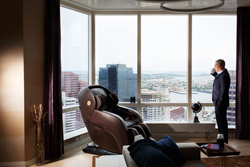 There is an immediate need for solutions in the corporate wellness space.
Seabrook, NH (PRWEB) October 10, 2017
Infinity Massage Chairs has formally announced the addition of its Corporate and Institutional Sales Department.
"There is an immediate need for solutions in the corporate wellness space, and our massage chairs are uniquely positioned to help a range of organizations and their employees, clients, and customers," said Director of Corporate Sales, Dave Laidman, who joined the Infinity team in April. He has spent the last several months educating and establishing relationships with corporate partners. "Our chairs are a great solution for corporate wellness programs because they are convenient, low-risk, affordable, personalized, and easy to maintain," he added.
As an industry leader, Infinity saw an opportunity to deliver wellness to people of all lifestyles. This new division is an effort to make massage more easily accessible to a larger audience by partnering with progressive companies to bring Infinity Massage Chairs to the workplace. Companies including IKEA and Microsoft are just a few on the growing list of customers that have recently added Infinity to their wellness programs.
Several organizations and their employees have already stated that they are experiencing the benefits of their massage chairs. "I am the owner of a moving company and the men look forward to the end of a hard day and relaxing for 20 minutes to an hour in the chair, if there is not a waiting line," Matthew Hamilton, owner of William C. Huff Moving and Storage and Infinity Massage Chair customer, said. "Having the ability to use the chair at will and not being forced to travel or make a massage appointment is priceless. My men have expressed their approval also by saying this is the best purchase the company has ever made," he continued.
And Hamilton's team isn't the only one reaping the benefits of daily massage. Bob Auchinachie, owner of Auchinachie Services, recently purchased an Infinity Riage X3 and said, "After three weeks, I've got office staff who are using our Riage X3 daily during lunch breaks, and our techs and installers make it a point to finish their physically demanding days with at least 20 minutes of manipulation. This chair hits every sore muscle in your body, and isn't shy about it! My skepticism and my aching bones have been soothed."
The experiences of these companies and their people are just a couple examples demonstrating the effectiveness of massage chairs as a corporate wellness solution. Infinity finds that the employees in these companies experience improved attitude, engagement, and mental agility, all of which have a direct positive impact on the overall culture and success of the business.
To learn more about corporate partnership opportunities with Infinity, contact Dave Laidman at 603-910-5258 or dlaidman@infinitymassagechairs.com. Also, remember to ask about their 30-day trial program.
About Infinity Massage Chairs
Infinity Massage Chairs is the fastest-growing massage chair brand in North America, with an A+ rating with the Better Business Bureau. Our mission is to unlimit wellness and living for all lifestyles by removing physical and mental limitations, so that they can live more comfortably and make the most of every day. We provide top-notch customer support, conduct intensive product development, and ensure the highest quality control standards. Experience unlimited living with Infinity today!