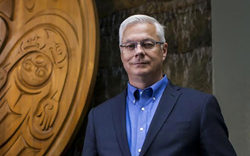 "This award is a testament to the commitment and hard work of the YVR community, which I have the honor to represent and work with every day."
(PRWEB) October 10, 2017
Airport Revenue News has chosen Craig Richmond, president and CEO of the Vancouver Airport Authority, to be its 2017 Director of the Year in the large airports category. The Vancouver Airport Authority oversees Vancouver International (YVR).
"We are honored to recognize Craig for this award," said Ramon Lo, publisher of ARN. "His work with YVR has continued to elevate the airport's profile as an industry leader."
Richmond's career with the Vancouver Airport Authority began in 1995. For the next 11 years Richmond served the authority in a variety of roles, such as manager of airside operations and vice president of operations. In 2006 he transitioned into the role of CEO of YVR subsidiary Vantage Airport Group where, for the next seven years, he oversaw six airports in three different countries. In 2013 he returned to YVR as president and CEO, replacing the retiring Larry Berg.
Richmond emerged as a vocal opponent last year to a Canadian government proposal to sell off airport assets in a privatization push designed to generate revenue. More broadly during his tenure, Richmond is credited with significantly expanding air service at YVR. More than 22.3 million passengers used YVR in 2016, a 9.7 percent increase over 2015. Growth continued in 2016 as the airport continued to add new flights and destinations. YVR has a goal of serving 25 million passengers by 2020. With longer-term growth in mind, Richmond and his team are embarking on the airport's latest long-term development program, Flight Plan 2037, a comprehensive plan designed to position YVR as a world-class, sustainable hub connecting Asia and the Americas.
Richmond, a licensed pilot, previously served in the Canadian Armed Forces from 1980 to 1990, having flown fighter jets with the 439 and 441 Tactical Fighter Squadrons. He attended the University of Manitoba, graduating with bachelor's and master's degrees in business administration. In addition to overseeing YVR, Richmond serves on the Canadian Airports Council's Board of Directors.
"I am very humbled to receive this recognition from ARN and my industry peers," said Richmond. "This award is a testament to the commitment and hard work of the YVR community, which I have the honor to represent and work with every day. Our goal is to constantly improve the airport experience for our customers and partners, and we do this through our innovative business model, our focus on customer care and our mission to connect B.C. to the world. I am proud to lead this team and thrilled that we have been recognized for our successful airport."
Richmond will be interviewed in and featured on the cover of ARN's November issue. He will be presented with this award at the ARN Awards Show on the final night of the ARN 2018 Revenue Conference & Exhibition in Orlando. For more information about the conference, please go to http://www.arnconference.com.