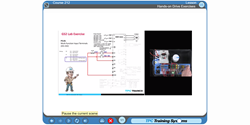 Our newest online solution brings instructor-led content in to our TPC Online on-demand learning management system which aims to help trainees quickly transfer often difficult subjects to real world applications
Buffalo Grove, IL (PRWEB) October 10, 2017
TPC Training's newest online Electrical Systems course introduces variable frequency drives (VFDs) and further discusses VFDs and their applications in industrial plants and commercial buildings. The course takes a new approach to online training by using video of live instructors demonstrating key troubleshooting skills and hands-on exercises. The course is the 12th online course in the Electrical Systems series of online topics and is part of the largest library of online technical skills training courses in the maintenance training industry.
The new Variable Frequency Drives online training course is the first released by TPC Training where instructors present the material through a recorded demonstration. This new video-based online format helps students visualize complex troubleshooting techniques as well as rewatch demonstrations of in-person maintenance procedures. These real examples of equipment are used to introduce exercises to help break learning barriers between classroom concepts and on-the-job applications helping workers apply their training faster.
The Variable Frequency Drives online course covers the following topics: 
– Basics for Understanding and Working with VFDs
– Motors for VFDs
– VFD Data Input
– Measurement and Safety for VFDs
– Hands-On Drive Exercises
– Electronics for VFDs
– Sizing and Selecting VFDs
– Installations and Startup of VFDs
– Troubleshooting VFD Systems and Motors
– Preventative Maintenance
"This new online course delivers valuable and engaging VFD training to maintenance workforces through detailed video of concepts and procedures," said Derek Dunaway, CEO TPC Training. "Our newest online solution brings instructor-led content in to our TPC Online on-demand learning management system which aims to help trainees quickly transfer often difficult subjects to real world applications."
Throughout 2018, TPC Training will introduce six additional courses to its online training libraries that will use instructor demonstrations to explain in-depth topics. These new courses will expand the subject matter covered TPC's technical maintenance library as well as help make online training courses on more complex topics more effective.
For additional information about TPC Training's online course library, visit http://www.tpctraining.com.
About TPC Training Systems: TPC Training is a privately held company with headquarters in Buffalo Grove, IL. As part of Telemedia, LLC, the company offers a complete portfolio of training methods, including online, classroom, and on-the-job. The company has helped more than 40,000 client sites globally to train over 3.5 million skilled workers.