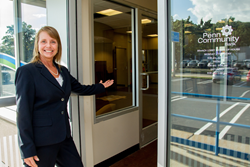 ABINGTON, Pa. (PRWEB) October 09, 2017
Penn Community Bank is proud to announce the opening of its newest branch in Abington Township, its first retail location in Montgomery County.
The new branch in the Baederwood Shopping Center enables Penn Community Bank to bring its full range of banking, lending, insurance and investments products and services and its community-minded business philosophy to the Abington area.
"We are excited to be a part of this thriving community, and we thank our business partners and local officials for giving us such a warm welcome to the Jenkintown and Abington area," said Penn Community Bank President and CEO Jeane Vidoni Coyle.
Penn Community Bank's new branch features a Home Loan Center and has a full-time mortgage specialist, Casey "Oche" Bridgeford, of Norristown, available to consult with customers. Branch team members include Branch Manager Kim Wissen, of Philadelphia, Sales and Service Manager Grant Hager, of Glenside, and Customer Service Supervisor Maureen Stephenson, of Jenkintown.
The new branch in Montgomery County comes as a result, in part, of a merger with Chelten Hills Savings Bank, a mutual savings bank that operated from one location in Abington. That location, at 2 Hidden Lane, will close permanently on Dec. 29, 2017.
The second-largest mutual financial institution in Pennsylvania, Penn Community Bank is not publicly traded and does not have to make decisions with investors in mind. Instead, it focuses on developing long-standing relationships with customers and the community.
Penn Community Bank commits up to five percent of its net income each year to charitable groups that serve the local community. The opening of the bank's first Montgomery County branch offers the opportunity to strengthen relationships with nonprofits in MontCo, including The Breathing Room Foundation, which is headquartered in Jenkintown and offers care and support to local families battling cancer. Penn Community Bank recently served as a sponsor for the Foundation's fundraiser, the 2017 Valley Road Run.
About Penn Community: Penn Community Bank holds more than $1.9 billion in assets, employs more than 300 people, and offers banking, lending, insurance and investments at 24 bank branches and two administrative centers throughout Bucks County, Pennsylvania. As an independent, mutual financial institution, Penn Community Bank is not publicly traded and operates with its long-term mission in mind: to help businesses grow and prosper, to provide financial resources to individuals and families throughout their lifetimes, to strengthen the local economy, and to partner with local organizations to act as a catalyst for positive growth in every market it serves.